Annual Frolic dance brings Northern Lights to Taipei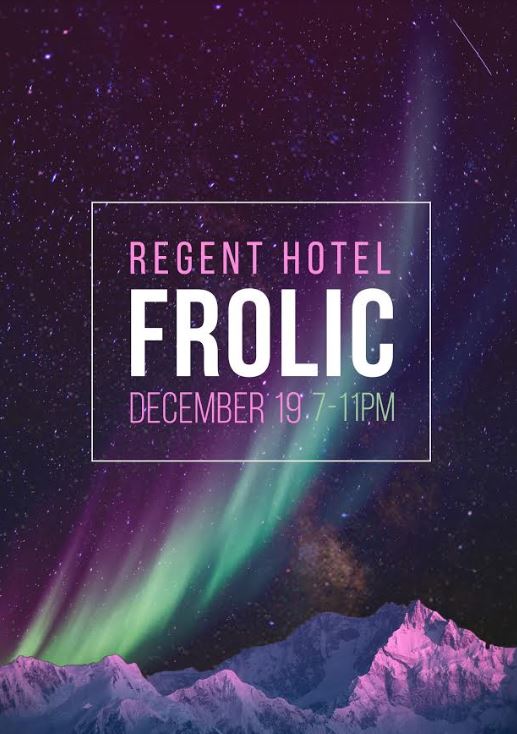 On Dec. 19, the annual December Frolic dance, run by the Student Government, will take place from 7-11 p.m. at the Regent Hotel. Last year, Frolic was held at the Marriott Hotel with the theme of Afterhours. The year before that in 2016, it was held at the Regent Hotel with the theme of Vegas.  
The theme of this year's dance is Northern Lights with a holiday touch, as it happens around Christmas time. "We're going for a warm, cozy and heart-warming feeling that is comfortable and inviting," Andrew Xu ('20), Student Government co-president, said.
The ticket this year are being sold for $1650 NT, with sign-ups available on Google Forms. Approximately 350 tickets are available. "There was a real effort this year in Student government to reduce the price. The price for the buffet individually is already $1600 NT, but we had a discussion on a potential replacement to make the price lower and more affordable to all the people in TAS," Ian Ho ('21), the Frolic Chair said.
Since the decorations and activities of the dance align with the theme, the activities and games this year are going to include holiday elements. "We're thinking of poker but with Christmas-style playing cards, and we're going to try to use chocolate coins and candy canes, which are a part of Christmas. There will also be cookie decorating and gingerbread house decorating," Andrew said.
The food at Frolic this year will be a buffet, as usual, with vegetarian and vegan options. However, there will be even more desserts this year. Besides the usual self-serve ice cream, there will also be hot chocolate and even a chocolate fountain.
Currently, the Student Government members and the Frolic Chair, Ian Ho, are all working hard on brainstorming ideas and putting together activities for the dance. They have around 50 dedicated members who meet every Thursday to work on decorations, brainstorm ideas and more.
To better the event for students, many changes were made this year. "We're trying to bring more activities for people who don't want to just dance, so we're making a more concerted effort with little activities, and are trying to make it more inclusive," Andrew said. One of those activities includes Mr. Andrew Lowman dressing up as Santa Claus so that students can take pictures with him.
Students will also have great access to photos taken during the event this year. There will be teacher photographers and three electronic photo booths available to students. Despite there being more activities, there will still be many performances happening throughout the dance. Including singing, dancing, magic shows, and instrumental performances.
With the effort of the Student Government, the dance will surely be a well thought out event. "It's going to be great. Get excited," Andrew said.
Leave a Comment