On Nov. 24, the citizens of Taiwan voted on 10 popular referendums, five of which were relevant to to LGBTQ rights. Propositions 10,11, and 12 passed by a substantial margin, reaffirming that marriage should remain defined as  between a man and a woman, that schools should not teach sexual education to students at a young age, and that LGBTQ rights should be protected in ways other than revising the Civil Code. Proposition 14 and 15 did not pass, redefine marriage to be between individuals of any gender and to allow schools to teach sexual education as well as gender equality to children.
For Proposition 10 which asked if citizens agreed that marriage should be restricted between a man and a woman, 7,658,008 of Taiwanese voters voted yes, and 2,907,429 citizens voted no. As for proposition 11, which asked whether voters agreed that the Ministry of Education should not implement gender equality education in elementary and middle school, it passed with 7,083,379  voters for and 3,419,624 against. For the last anti-LGBT proposition which states that the rights of same-sex couples in cohabitation should be protected in a different way instead of changing the civil marriage code, 6,401,748 voters agreed, while only 4,072,471 voters disagreed.
Both pro-LGBT propositions on the referendum failed to pass. Proposition 14 asked whether voters agreed with extending marriage law's protection to cover same-sex marriage. For this proposition, only 3,382,286 of the voters agreed, while 6,949,697 disagreed. For proposition 15, which  proposed gender equality, emotional education, sex education, and same-sex education should be taught to students of all levels, only 3,507,665 of the voters agreed, leaving 6,805,171 voters who disagreed.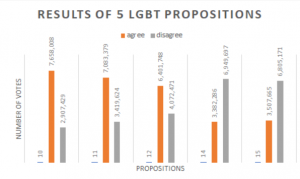 This was a big setback for the LGBTQ community and its allies since Taiwan's constitutional court declared that same-sex couples have the right to legal union on May 24, 2017. Many were expecting Taiwan to be the first nation in Asia to legalize gay marriage, but the results announced on Saturday night posse a serious challenge to the future of LGBTQ rights.
Claire Hong ('21), who identifies as queer, was very upset with the results of the referendum. "Disappointment was the first response I had towards the results, followed by anger, then irritation," she said. "I was seriously hoping that Taiwan could grow a spine and prove itself as a progressive and forward thinking country."
Others at TAS were also shocked by the news of the referendum. "I want to get married to a woman," Sophie Cha ('20) said. "There was a fairly large chunk of the Taiwanese population that was in support of the May 24 rulings, so it was incredibly surprising when the propositions didn't pass."  
Claire echoed the sentiment. She said, "I was aware that there are many in Taiwan who are close-minded, however, I also personally know others who are accepting, examples being my friends and my mother, so it was devastating when the pro-LGBTQ propositions did not pass."
On the other hand, Jeffrey Li ('22) reacted differently to the results and provided his perspective on the issue. "Laws are for people now, the majority of the people. Changing the law can affect everyone, but no matter what, the LGBT community is still the minority," he said. "Today, so many people think that opposing LGBTQ is being homophobic, but it's not. "I have friends who are not straight, and I'm fine with them."
Jeffrey also believes that making sex-ed more inclusive for LGBT is unjustified. "It might confuse children about their own sexual orientation, causing more chaos in this nation," he said.
However, many like Claire argue that queer students are less likely to be bullied by peers at schools that provide LGBT education. "This would definitely translate into students being in a safer and more accepting environment," Claire said. "Contrary to what conservatives claim, educating your children about basic human nature will not spread aids, make your children gay, or take away the liberties of heterosexuals."
Taiwan has been internationally regarded as the one of the most progressive nations in Asia, especially in terms of LGBTQ issues: A Quartz article published just two days before the referendum was headlined, "How Taiwan became the most LGBT-friendly country in Asia." Yet, the results of the propositions still showed that 77 percent of voters in Taiwan are against equal rights for homosexual people.
"People just want to marry the ones they love. Is that too much to ask?" Sophie Cha said.
For now, the answer seems to be "Yes."