On Jan. 26, Taipei American School topped this year's Interscholastic Association of Southeast Asian Schools chess tournament, halting International School of Manila's reign from last year. The online tournament was hosted by the TAS Chess Club.
The club nearly defeated all other schools, ranking first with a score of 26.5. Only two losses and three draws were made. ISM and Singapore American School both tied at second place, with 16. Last year, TAS placed second at 19.5. A player is awarded a point if they win, and half a point for a draw, A total of six rounds were played.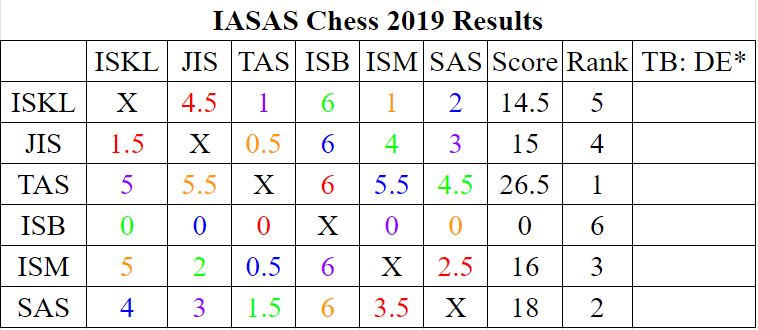 "I guess it is safe to say that TAS dominated IASAS Chess this year," Kevin L. ('19) said on Facebook, after posting screenshots of the tournament results and his checkmate game against the International School Kuala Lumpur.
This year's TAS players were: Alex C. ('22) on board one, Andrew C. ('22) on board two, Rem Y. ('19) on board three, Louis A. ('21) on board four, Kevin on board five and Calvin S. ('19) on board six. One alternate, Ryan C. ('20), played and won a fifth-round game against ISKL. The lower the board number, the higher the player's skills.

The players were chosen following a comprehensive review of each individual's games and performance. The chess club also held a tournament last September to select the players. "We had about 10 people for the tryout. The first round was random pairings. In the second round, the winners play against each other. And the losers play each other, and so on. Players of similar scores played each other until the seventh round. And then I took the top eight scores," Rem, the club captain, said.
"The two freshmen [Alex and Andrew] were insanely good. They're twin brothers, by the way," Kevin said. They were the top No. 1 and No. 2 players in the team.
The boards were ordered by "each person's objective level of play on average," according to an internal email briefing by Rem. "Our lineup this year is the strongest I've seen in chess," he wrote.
International School Bangkok forfeited early before the tournament officiated. All other schools won against them by default.
The forfeit also caused a 35-minute delay, causing the second round to begin in 11:40 a.m. "They just didn't show up this year," Kevin said. "They showed up last year and they just forfeited in the middle of the tournament."
Rem won his bet. "I also offered to buy everyone a McDonald's meal of their choosing if we won, and I'm happy with my investment," he said.