Visiting artist Ruthanne Tudball, an accomplished potter and art educator living in England, came to Taipei American School on Feb. 26 to talk about her experiences as a potter. She graduated from Goldsmith's College with a Commendation and two years worth of research into soda glazing. She has regularly conducted workshops around the world on throwing, manipulating and assembling wet pots on the wheel and soda glazing. Her pots are in public and private collections in Europe, North America, Australia and Asia.
Tudball talks about her experiences in various countries such as in South Korea, China, and India. One memorable experience she had in South Korea was making traditional brushes used to paint a light-colored slip, or a liquid mixture or slurry of clay suspended in water, on pottery. She enjoys helping traditions stay alive and has no problem in bringing old traditions into modern day techniques. She was also invited as one of the top 10 international teapot makers to visit China.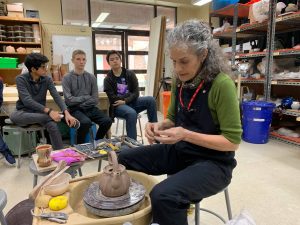 While Tudball travels, she often notices nature in her surroundings. She has a great passion for involving nature into her works and is regularly inspired by flowers, fruits, animals and others. Tudball lives in England and is able to see the sun rise and set often. This inspires her to incorporate rising and falling suns in many of her artworks. Other things she gets inspired by are trees."I often look at a fallen tree with a beautiful trunk and think 'Wow, what a good handle that would make,'" Tudball said.
One setback Tudball has experienced was an injury where she tore all the ligaments on her right hand. The doctor said that she may not even be able to recover from it. Even to this day, she cannot close her right hand fully. This has led to her only being able to use her left hand to create pots. Luckily, she had asked a friend to install a reverse button on her wheel so it could turn in a reverse direction before this incident.