By Nicole C. ('21) and Joon K. ('19)
On March 12, Raid Zero, the Taipei American School FIRST Robotics Competition team, won the Chairman's Award at the Southern Cross Regional in Sydney, Australia. This award qualifies them for the World Championship in April.
The regional was held at the Quaycentre, Sydney Olympic Park, from March 9-12.
This year's FRC challenge theme is "Destination: Deep Space." The objective of the game is to score as many points as possible by placing hatch panels on ships, loading cargo on pods, and also returning the robot back to its habitat, or high podiums. Alliances must complete these tasks, starting with a 15-second sandstorm, where a black curtain is draped, essentially blocking the drivers' view. Drivers are then forced to rely on cameras or autonomous programming to win points.

The Chairman's Award is given to the team that best models the purpose and goals of FIRST, a non-profit youth organization that focuses on engineering and technology.
The fourth alliance, which included Raid Zero, lost to a formidable rival during the semifinals. Raid Zero ranked at No. 20, the team's lowest record in three years.They won the regional last year.
"We had a rocky start," Raid Zero co-captain Sharon Kuo ('19) said. "When alliance selections came along, we were in an [not ideal] position that put us up against the strongest team in the semifinals."
In fact, Raid Zero, whose team number is 4253, was met with many obstacles and lacked preparation due to extreme time limits. The team continued to modify their robot before the competition began. Accidents were unpredictable—instruments broke or fell apart, wires malfunctioned—they were everyday problems that could become strokes of bad luck.
"We came into the regional with a bot that wasn't necessarily our best," team coach Mr. Matthew Fagen said, according to Sharon. "We had a very rough season with a lot of challenges, so we shipped a robot with little to no practice."
However, they were able to overcome these difficulties. "Everyone worked super hard to do repairs during the regional, and we managed to pull through," Mr. Fagen said.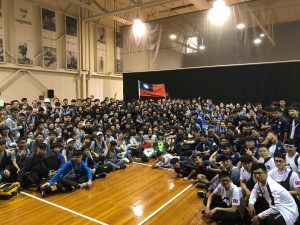 "None of us were partially devastated, because we had improved and learned so much during the regional that we now know how to kick butt in Hawaii," Sharon said.
After the regional, Raid Zero and ten other Taiwanese robotics teams that they had trained over the summer came together and took a group photo, raising up the national Taiwanese flag in the background.
Everyone then laughed. "[This] is technically not allowed due to China-Taiwan drama in FRC," Sharon said. "It was a crazy moment."