For the past six months, the I Love Art Fashion Club and Art Honor Society have been working with Catherine C. ('19) and Si Yun E. ('19) to design new T-shirts and water bottles for the Tiger Shop. They plan to distribute the first new merchandise between mid-March and early April.
Catherine and Si Yun introduced the idea of designing new merchandise for their social entrepreneurship class, taught by Mr. Anthony Ives. Social entrepreneurship students are expected to construct a year-long project with a partner, so Catherine and Si Yun decided to design new school merchandise for the Tiger Shop. "Everyone either complains about the merch or just[doesn't] wear it. [Catherine] and I thought this project would make the Tiger Shop seem new and fresh," Si Yun said.  
Since there are so many designs to choose from, the ILA Fashion Club and AHS created a survey for students. The current Tiger Shop merchandise was designed without consulting any students, but this project allowed people to vote on their favorite t-shirt and water bottle designs and how much they would be willing to pay for the merchandise. "If kids vote on what they want, I think more people will wear and use the merch," Catherine said.
Peter C. ('19), the president of the ILA Fashion Club, has designed four unique t-shirts. Most of his designs feature an actual tiger, rather than the simple tiger logo that the current merchandise uses. After a student survey was conducted, Si Yun and Catherine determined that each shirt would be sold at $490 NT. However, students need to pre-order 50 shirts by the end of February to start production.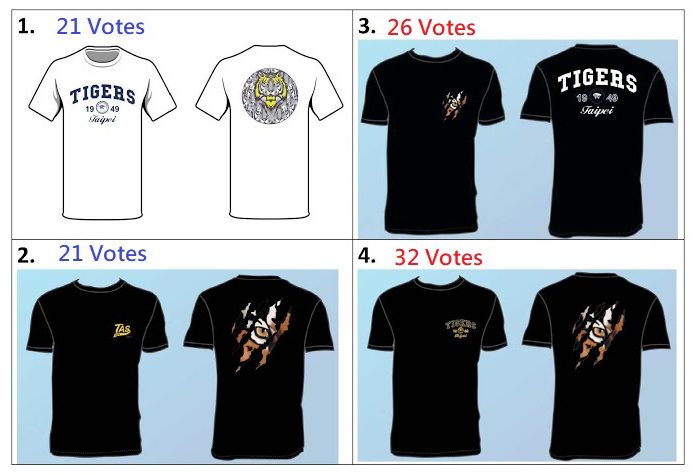 Since this is the first time students are designing school merchandise, Peter is careful with producing too much merchandise at once. "This shirt is testing the waters," Peter said. "If [students] support, we will continue with different types and designs." The Tiger Shop will sell 100 shirts in the first wave, and will continue to produce more based on the shirt's popularity. 50 percent of the profit will be donated to a charity group that the ILA Fashion Club decides on next year.
While Peter designed the T-shirts, Sharon Kuo ('19), the co-president of AHS, designed new water bottles, with five unique designs in three different colors. However, the water bottles will not be released until September and expected to cost anywhere between $550-1000 NT.


After working on this project since the beginning of this academic year, Catherine and Si Yun hope to hit their 50 pre-order target by the end of this month. The new t-shirts will be available in the Tiger Shop later this semester and can be purchased by either cash or ID card.
You can either vote for the new designs here or in the link posted on your grade's Facebook page.