Robotics team wins Amazing Spaghetti Machine International Contest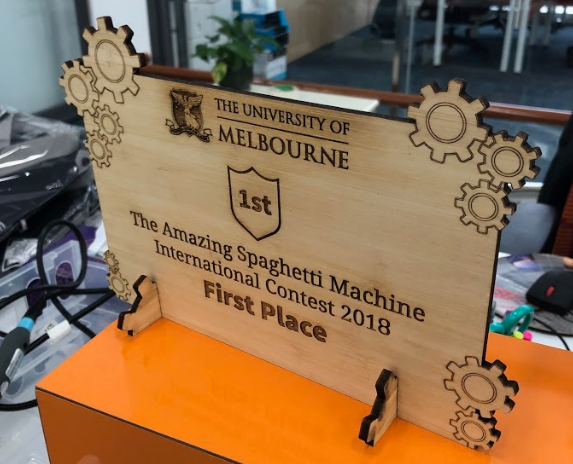 A team of four robotics students from Taipei American School won first place in the annual Amazing Spaghetti Machine International Contest held by Melbourne University and coordinated by Melbourne School of Engineering. The contest took place online for international students aged 14 to 17, and team Raid Zero consisted of team leader Daniel L. ('21), Ethan D. ('21), Selena L. ('22) and Darren C. ('22), with robotics and computer science teacher Mr. James Cloos as an advisor.
While the title of the contest refers to a spaghetti machine, this is simply an Italian term for an overly complex machine or device meant to perform a relatively simple task. This year, the contest challenged students to invent a machine to squeeze toothpaste onto a toothbrush. The team had to submit their entry online last November through a short YouTube video showing their machine completing the task, along with a write-up.

Since the contest emphasized sustainable design, the team found ways to incorporate recycled materials into their machine. "We took old scrap projects from the robotics lab like scrap wood and metals," Daniel said. "About 75 percent of our robot is made of recycled materials."
As the first team from TAS to attend this competition, Daniel had no initial expectations for the competition, so their win was a pleasant surprise. "I didn't do much research or look at how much competition we had, or even looked at past submissions…[we] kind of just went with the flow," he said.
Still, this did not mean that the process was not challenging. "There were a lot of fails, which we included in our video. It's not a project that works on the first try; it's all about trial and error, so the moral of the story is, 'Don't give up,'" Daniel said.
The coordinator from Melbourne University visited TAS on Monday, March 25 to personally hand out Raid Zero's trophy and awards, although the contest results had already officially been announced online in December. The team also received a free one-week summer camp at the University of Melbourne as a prize.
Leave a Comment