TAS conducts schoolwide renovations for the summer
Led by Chief Operating Officer Mr. Larry Kraut, Taipei American School conducted a variety of renovation projects around the school. The school renovates "every year, somewhere," Mr. Kraut said. This year it will run from the beginning of June all the way to the middle of October. 
This summer, there were more than 30 renovations going on, the largest project being the lower school playground. "The playground is a complete do-over, going all the way down the soil, from the bottom to the top," Mr. Kraut said. Since the last time the playground was done was 12 years ago, it will be a large-scale renovation. This means the playground will not be done till the middle of October. However, students will still be able to play in the athletic field as well as the basketball courts.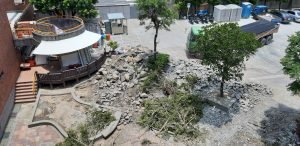 Pedagogically speaking, one of the main reasons the playground is being renovated is due to the ever-changing educational systems. "Children need to learn to take risks," Mr. Kraut expressed. Currently, the playground is good from a safety and protective perspective, but with the new playground, there will be appropriate risks so children can learn how to be confident in the future. It is important to apply what they learn in classrooms into their playgrounds for creative play. After the playground is finished, it will need to be inspected and signed-off by the city before lower and middle school students can play.   
Other renovations also include classroom modernization and bathroom upgrades, as the bathrooms that are going to be refinished are currently 30-years-old. It will be refinished with neutral colors, using durable materials.
"When renovating we have to always keep in mind what the project goals are," Mr. Kraut said. The school needs to incorporate what students learn in classes and make it operational, low maintenance, efficient and effective. Design solutions are crucial so facilities don't need to be replaced every other year. TAS hopes to create a community where students are able to grow and learn effectively both in and outside of classrooms.
Leave a Comment