Parent Teacher Association hosts its International Food Fair
This year's annual Parent Teacher Association (PTA) International Food Fair took place on Oct.19 at Taipei American School to raise money for the school and for many of the Upper School clubs.
This year's Food Fair featured food booths, performances, a haunted house and games from Upper School clubs. Not only did the clubs raise money, they also entertained the kids with fun games. Such games included ball tosses, trivia challenges, bouncy castles and more. 
The Food Fair also included a special preview of this year's Upper School Dance Production "The Wizard of Oz" at the main stage area. Performances included Munchkin Land, Emerald City, the Opening Scene and Flying Monkeys.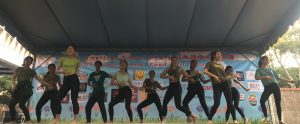 Furthermore, the haunted house was also featured in the Food Fair. This year's theme was of the movie "IT Chapter 2," and was represented by students dressing up as clowns to scare people. Annie Y. ('23), an attendee at the haunted house, believed that "everyone did a good job of organizing the haunted house." "Overall, I really enjoyed the haunted house as it was incredibly fun and exciting," she said. "However the worst part was probably walking out of the haunted house because I wanted it to last longer."
Moreover, in an attempt to be more eco-friendly, the PTA encouraged the use of personal containers and reusable paper containers. There were also reusable water bottles available to reduce waste. Additionally, the booth representing Taiwan also used paper straws for their bubble tea. 
Overall, this year's PTA Food Fair was well-received. " I like[d] that there [were] a lot of games for people to be entertained," an attendee at the Food Fair Judy K ('23) said. "All the food [I] tried was really good."

Leave a Comment