Ms. Cutler: "lost track" of TAS's medal count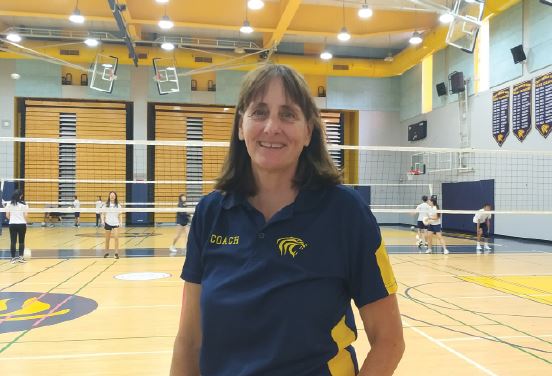 Ms. Kathleen Cutler, Physical Education, Health teacher and volleyball coach, first came to Taipei American School through an international student teaching program in the fall of 1982.
Before this opportunity, she worked at a factory packing popsicles to pay for her school tuition. As someone who originated from Washington state and attended Washington State University, moving to Taiwan was her first time traveling overseas. Originally, Ms. Culter wanted to move to the Philippines because it was famous for scuba diving.
However, because there had been a coup there, she decided to move to Taiwan afterall. This is because she thought that because Taiwan was an island, so she would be able to scuba dive there as well.
Ms. Cutler describes her first impression of Taipei as pure excitement. "When I first got here, I was like going through a honeymoon phase and I was excited to meet new people and experience a new culture," Ms. Cutler said.
Although her father was quite hesitant and slightly devastated that Ms. Cutler would be so far away from home, both of her parents were excited for her to take such a big step forward. Ms. Cutler was not the only one who got this opportunity as six other students went with her.
During her time in TAS, Ms. Cutler started out as a swimming pool supervisor and trained lifeguards. She then began to teach middle school students physical education and became a health teacher, a program which was newly implemented. Ms. Cutler clearly remembers the first time she brought her volleyball team to Interscholastic Association of Southeast Asian Schools and got ninth place overall.
After teaching in the Middle School for 12 years, TAS created an assistant athletic and activities director position and moved Ms. Cutler to the Upper School as a part-time teacher while still coaching volleyball. The varsity girls' volleyball team has won 6 times. "I've lost track of how many silver and bronze medals we've won," Ms. Cutler said.
Ms. Cutler has seen many changes in the athletics program. "This school's grown a lot. I look at how small our athletics program was and over the years how much we've added for students." Many changes such as the middle school intermural program was developed and opportunities outside of athletics have been added. "We're really fortunate to have such great kids that want to learn. It's a great school to work for," she said.
Leave a Comment