Escape Room: The Tag-Along movie brought to life
Escape rooms are one of the most popular types of entertainment in Taiwan nowadays. In the game, players would be locked in a room where they have to find clues and solve puzzles to escape before the time is up.  
In the last decade, the concept of escape rooms have increased in popularity across the world. Permanent escape rooms were opened in Taiwan and various other countries. 
Having been to a couple of escape rooms over the years, I decided to try out a horror themed escape room for the first time with three of my friends. We picked an escape room that is based off of the Taiwanese horror movie "The Tag-Along" at EnterSpace.
This escape room is limited to two to four people, and the whole experience is about 90 minutes. The price is 600 NT per person for two to three people, and 550 NT per person for four people. 
When we arrived at EnterSpace, we were led to a seating area after putting our belongings in lockers. The staff was very welcoming, and he explained to us different things to look out for before leading us into the starting room. 
The staff did a great job setting up the mood, so that by the time we entered the escape room, we felt immersed in the story, as if we were actually going into the movie. 
This escape room is one of the most interactive escape rooms that I have been to, as each person is assigned a character, with their own name, background and role. There are four characters in the storyline, so I would definitely recommend going in as a group of four.
One of the most unique parts of this escape room is that your experience is shaped by your decisions. There are multiple storylines, consequences and endings to the story, which made it feel even more realistic and exciting.
The use of sound, light and technology was also a highlight of the experience. I was quite impressed by the props we were given, and all the special effects that kept us on our toes the whole time. Although there were no live actors, you will definitely feel paranoid and spooked to the very end.
However, one of the slight downsides to this escape room was that the difficulty of the puzzles are slightly on the easier side. If you are an experienced escape room player or a skilled puzzle solver, this escape room may not be what you are looking for.
But if you are looking for an escape room that focuses more on experiencing the story, this one will not disappoint. The decorations and the settings are eerily similar with the movie, and although you do not need to watch the movie in order to play, I would definitely recommend it as it drastically adds to the experience. With the addition of horror effects as well, these puzzles are not necessarily easy either and can take some time to get through.
Therefore, I would recommend this escape room to those who love horror movies and want to take things up a notch. If you are feeling courageous and up for an adventure, this can be a great way to spend time with a group of friends as you will come out feeling more bonded than ever.
Leave a Comment
About the Contributor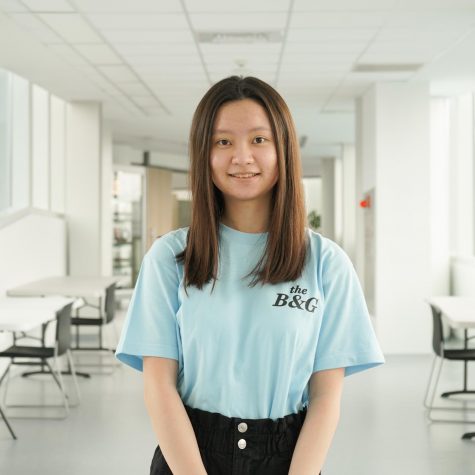 Sharon L. ('22), Managing Editor + News/Sports Section Editor
Sharon is a senior at Taipei American School and the Managing Editor and News/Sports Section Editor for The Blue & Gold. She enjoys reading fantasy...