Explore Jiufen 
Nestled in the mountains in Ruifang District, Jiufen is a popular tourist spot in Taiwan. Jiufen is believed to be Miyazaki's inspiration for his anime film Spirited Away, and it also used to be the center of gold mining in Taiwan. Lined with hanging red lanterns and shops selling delicious street food, Jiufen Old Street is definitely worth a visit.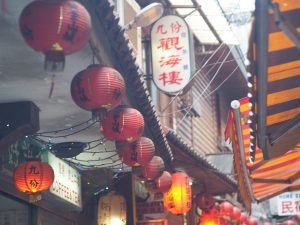 Spend the day at Baishawan Beach 
If you want to escape Taiwan's summer heat, go to Baishawan Beach. Baishawan, which means "White Sand Bay", is only an hour and a half drive away from Taipei City. With its white sand and clear blue water, Baishawan is a must go destination. However, as Baishawan is one of the better known beaches in Taiwan, it can get quite full. Make sure that if you go during the weekend that you go in the early morning or late afternoon!