Ms. Michelle Kao finds balance between art, teaching and family
Ms. Michelle Kao, Upper School Art Department Chair, recently opened an exhibition at Lili Art and Kitchen named "Tea in Atlantis" with Mr. Edmund McGowan, former art substitute teacher. The exhibition combines two art mediums, paintings by Ms. Kao and woodfired ceramics by Mr. McGowan. The exhibition was open from July 18 to Aug. 31, where the artworks were displayed on the second floor gallery of the restaurant. 
The name "Tea in Atlantis" signifies the combination of painting and ceramics. The tea suggests the use of ceramicware, while Atlantis is the name of the biggest painting in the exhibition. The name Atlantis also refers to the mysterious underwater city in Greek mythology that people have always searched for but have never found. 
"Tea in Atlantis is almost like this impossible thing, right? But it could be possible only if you imagine it," Ms. Kao said. Many of the pieces displayed have dreamlike qualities and abstract textures, which allows the audience to make their own interpretations. Ms. Kao and Mr. McGowan seek to move people with their art by channeling the audience's imagination, allowing them to see and experience sensations as if going to an alternate reality. 
Despite having fantastical themes in many of her pieces, Ms. Kao often finds inspiration for her paintings from the world around her. The painting "Atlantis" was inspired by a small oxidized metal knob in her shower, about the size of a 10 NT coin. 
"The way that it was oxidizing, it's almost like nature doing its magic…I was very moved by it," Ms. Kao said. 
Although most people would easily disregard a small piece of tarnished metal and not even spare a second glance, Ms. Kao saw beauty in the ways the colors and textures came together, and decided to channel it through her artwork. 
The final painting ended up to be 400 times the size of the knob itself. 
"I'm trying to share things that visually move me. And if I magnify it large enough, you can't miss it." 
Another set of artworks, "When Your World Is Turned Upside Down", "And You Can't Stop the Tears From Flowing Up" and "Unicorn Frappuccino," are symbolic of Ms. Kao's personal journey in embracing her creative spirit. 
Around two years ago, Ms. Kao was struggling with balancing teaching, art and family, which are all equally important to her. She felt very unbalanced and overworked, because she wasn't taking time for herself. "I realized that although I am a creative, I wasn't feeding my creative spirit," she said. After realizing this, Ms. Kao began visiting the school during summer and winter breaks to paint in the studio. 
At first, she didn't intend to showcase these paintings, but as she painted more and more works, she felt that they were cohesive enough to become a show. So when she was offered an opportunity by Lili Art and Kitchen, she decided to go through with it and polished up 12 of her paintings for the exhibition.
When the exhibition opened in July, many of Ms. Kao's students went to listen to her artist talk. Jane L. ('22) and Yu T. ('22), two of her yearbook students, were very moved by her paintings.
"I could really see the emotions she put into the artwork. Especially since I heard the explanations for her pieces, I was able to feel the emotions behind them more deeply," Yu said. 
Many students also loved Ms. Kao's artistic style, and felt inspired by her. "I really like her paintings. Her art style is really young and trendy, and it's really aesthetic. I feel like her personality really shows through her style, because she's really open to young people and their ideas," Jane said. 
Ms. Kao sees her own paintings as reflections of her soul, portals through which she can deliver messages to her audience. By sharing these paintings, she provides opportunities for "soulmates", people who can connect through her paintings, to meet.
Beyond just displaying her artworks, Ms. Kao has also placed her paintings up for purchase, and will be donating 20 percent of the profits to SeaTrees, an organization that helps to reverse climate change. 
Although saying goodbye to her pieces is a hard thing to do, Ms. Kao still wishes that all of her paintings can go to good homes. "I personally think that each artwork has its own energy to offer, and for people who buy my work, they see the piece and they're moved by it. So if they get to have that and see that all the time, it's giving them good energy. So if I think about it that way, I'm very happy for them to go."
Starting this month, Ms. Kao will be moving on to her next creative project. As someone who creates in multiple mediums, including writing music, acting and baking, she has decided to participate in a year-long acting class focusing on the Meisner technique, where actors learn to trust impulses and act truthfully under imaginary situations. "I'll probably just paint for fun when I feel like it for a while. So I don't know when my next art show might be and I'm not worried about that anymore," Ms. Kao said. 
Leave a Comment
About the Contributor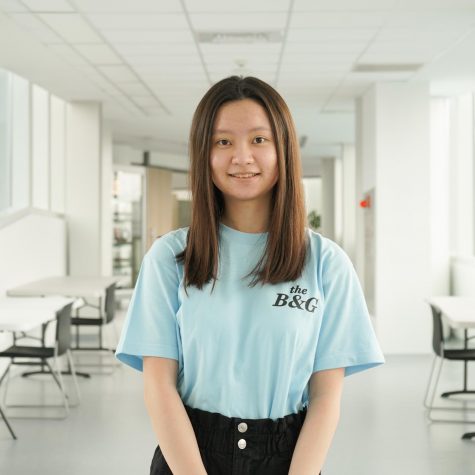 Sharon L. ('22), Managing Editor + News/Sports Section Editor
Sharon is a senior at Taipei American School and the Managing Editor and News/Sports Section Editor for The Blue & Gold. She enjoys reading fantasy...