Why "test optional" policies should continue on post-pandemic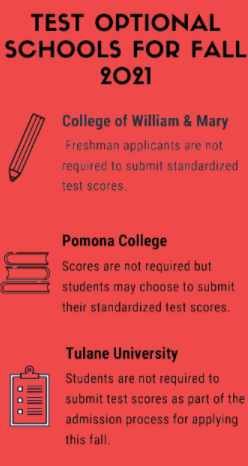 Due to the COVID-19 coronavirus, many standardized tests have been canceled, leading to the ongoing discussion of continuing the test-optional policy in the future.
The University of California System (UC System) and many other colleges have made the decision to go test-optional for the 2021 school year. In fact, the UC system will be test optional until the fall of 2022, while the fall of 2023 and 2024 will be test blind for all applicants.
Though this decision may come as a surprise to many, the decision to go test optional has always been an option for many notable colleges. The coronavirus was the last push to enacting this decision.
In fact, on Aug. 10, the National Association for College Admission Counseling released an agreement that was signed by more than 1500 deans of admission, presidents of universities, and many more. "The agreement says [that] when a school declares that they are test-optional, they will make sure students who do not submit test scores are not negatively impacted, and if they do choose to submit more than one piece of information that they'll consider it as part of an entire holistic review." Ms. Hamre, the Upper School Director of College Counselling said.
While standardized tests are designed to be fair assessments, they do not accurately measure a student's intelligence. Standardized assessments are essentially differentiating each student's financial asset in order to access sufficient resources to prepare for the assessment. Those who do not have access to certain guides or textbooks are automatically at a disadvantage compared to the students who have a higher quality of education.
Standardized testing does not test a student's cumulative knowledge on the academic curriculum. Instead, these assessments target specific categories of the academic curriculum. The assessment also depends on a student's ability to approach problems in a robotic way. Students are required to sit through three hours of testing while repeatedly solving through math problems
If colleges eliminate a student's possibility of being accepted into a college solely due to their low assessment score, then they are discriminating against those who have a lower financial income, as they do not have access to costly testing preparation resources.
Since test optional policies have been implemented in recent months, it can be inferred that many colleges will continue this policy in the future. That is why college counselling classes have become more flexible compared to the past. "I think because there is a greater emphasis being put on how you're portraying yourself through other components of the application, so we are having more open-ended classes for students to work on writing," Upper School College By Laura Hsu ('22) Counselor Mr. Gursky said.
Unless colleges find a truly unbiased and completely accurate way of determining a student's intelligence, the best solution now will be to continue implementing test optional or test blind policies even after the post pandemic period.
Leave a Comment