StuGov creates mental health podcast for the TAS community
Recently, Taipei American School has increasingly tackled the concept of mental health through advisory lessons, guest speakers and counselors. Lessons from educating students about stress to peer pressure are incorporated to help students with their daily lives. To further the initiative, officers of StuGov created a podcast addressing these issues to emphasize the importance of mental awareness. 
The podcast was formed this year by Vice President Alice Chiang ('21, she/her) alongside Deputy President Laura Hwa ('22, she/her). 
The purpose of this podcast is to instigate conversations about wellness since experiences regarding anxiety and mental disorders are not heavily discussed in school. "I realized recently that a lot of people around me aren't really familiar with those issues," Alice said. "And I think this podcast will definitely help students." 
The podcast is created in a conversational style with two people having a conversation and is designed in a way so it would be a genuine conversation. Instead of a lecture podcast style, these conversations are natural and will help build our community and benefit students as they learn from it. 
The podcast focuses on stories of members in the community and how different students manage their own schedule and lives. StuGov is looking to interview students about their routines and how they deal with their problems. "We wish to share our own perspectives on current events and issues brought up in our community, which could inspire some listeners," Laura said. 
Through the podcast, the officers strive to create a safe place where students can talk about different issues and understand how others solve their problems. The podcast will include topics such as how to support a friend or a loved one, where to seek help as well as noticing signs and symptoms of mental health issues. "Everyone should know that it's okay to not be okay," Mr. Ryan Haynes (he/him), director of academic and personal counseling, said. 
Each episode is approximately 20 minutes long and are created in both video and audio form. Videos will be available on Facebook and Instagram, and the audio will be posted on Spotify and Apple's Podcasts.
The first episode is titled: "How we cope with difficult times" and focuses on emotions, anxiety, confidence, failure and doubts. This first episode will be available on Monday, May 17, in all social media platforms mentioned.  
Leave a Comment
About the Contributor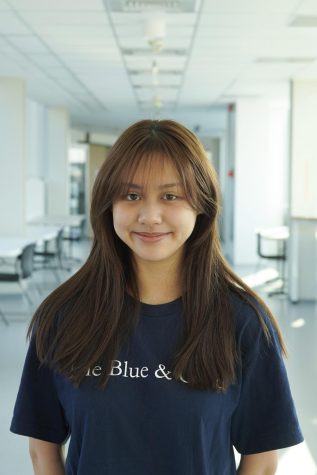 Abby C. ('24), Director of Social Media
Abby is the social media director of The Blue & Gold. She has lived in Taiwan most of her life and enjoys traveling, music, reading and playing with...