The B&G announces importnat change in pronoun policy and invites the rest of the community to do the same
For this edition of the Blue & Gold, all writers and editors of the publication have included their preferred pronouns in an initiative to make TAS a more welcoming and inclusive place for all. 
Since the Blue & Gold's first issue in 1999, the TAS student newspaper has always used and maintained binary pronouns, not only in the staff bios but also in introductions of students, faculty, guest speakers and other interviewees. However, for this issue, staff writers will all include their personal pronouns of preference and do their best to include the personal pronouns of the people mentioned in their articles if requested. 
This was not a decision that the Blue & Gold made lightly, but we feel this change is necessary and long overdue. In an age where old obstacles have been broken down and stereotypes and prejudices are being discarded, we must do our part to inform, to improve, and to elevate our community's understanding of this issue. 
The Blue & Gold firmly stands by an individual's ability to identify their own gender instead of our previous assumptions to assign them a gender based on gender stereotypes and inherited biases. It starts with respecting the gender fluidity and each individual's sense of identity within our community. 
According to a report in Proceedings of the National Academy of Sciences, using correct pronouns and names reduces depression and suicide risks. A person's ability to use their correct pronouns on an individual level is vital to building a healthier, inclusive society. 
Transgender and non-binary communities often struggle with telling others their preferred addresses directly, facing resistance of varying degrees of aggression when they take a step to further request others to use gender pronouns. This unequal dynamic between the majority and minority only gives way to greater misunderstandings and ineffective conversations that impede us from achieving equality and inclusion. 
Thus, to reduce the stigma associated with non-traditional pronouns and to normalize discussions on gender, both groups and individuals must proactively set an example for those around us. In normalizing the use of pronouns next to our writers' names, we hope to set an example for the rest of the student body.  
So we encourage you to join our lead. You can change your email signature and social media profiles to include your preferred pronouns. You can offer your pronoun when you first introduce yourself to others. Also know that you can and should take the initiative to ask others about their preferred pronouns so you do not mistakenly assign an incorrect gender to anyone you meet. High school is hard enough without having to constantly defend your identity to your peers and teachers. Let's all do our part to take this one obtacle off of our transgender and nonbinary friends.
Leave a Comment
About the Writer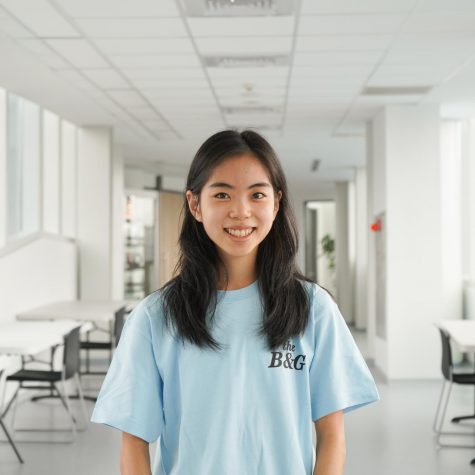 Lana L. ('22), Editor-in-Chief
Lana is the editor-in-chief of the Blue and Gold. She loves to indulge in books and romcoms. She also enjoys hiking and running outdoors. Economic inequality...