Learning perseverance from computer science and robotics
The discipline of computer science and robotics is often labelled as one of the most difficult subjects to learn. However, a good teacher can make all the difference. Here, at TAS, computer science and robotics teachers hope that their students learn to adapt quickly, think critically, and stay determined no matter the circumstance. 
"The general mission is to teach computer science and robotics while having students engaged in projects that they think are interesting," Mr. Matt Fagen (he/him), upper school computer science and robotics department chair, said. "It's important that the students apply the knowledge that they learn." 
Some teachers utilize new, innovative ways to keep students active and engaged. "I like to do a lot of standing up and working on windows,"  Mr. Nick Steckler said. Mr. Steckler is a teacher in both the math and computer science and robotics departments. "I think sitting in any class for 80 minutes is tough; just being seated and listening to someone droning on is not the best way to learn."
Other teachers encourage students to implement new skills on their own. "I like to do a lot of project-based learning," Mr. Fagen said. "Students will learn a skill and then I will have them develop their own project to try and employ that skill." 
However, such projects are not always successful: failure plays a big part in computer science and robotics. Teachers hope that their students can persevere through hardships, be comfortable reaching out for help and learn from their mistakes. "When a student encounters a problem, they should keep at it, but they also need to figure out when to look for help," Dr. Carlos Delgado said. Dr. Delgado is responsible for teaching several courses within the computer science and robotics department including AP Computer Science and an elective called honors artificial intelligence.
Under these teaching styles, students learn many crucial life skills. "I learned problem-solving skills because there are many different approaches you can take to complete projects or free-response questions… it's like solving a puzzle," Annie Yang ('23, she/her) said.
At some point, all TAS students will take a computer science or robotics course because of graduation requirements. Aside from fulfilling graduation requirements, these courses are emphasized because of their relevance to our evolving world. 
"As 21st-century citizens, we should know how this stuff works because it is so important in our daily lives," Mr. Steckler said. 
Leave a Comment
About the Contributor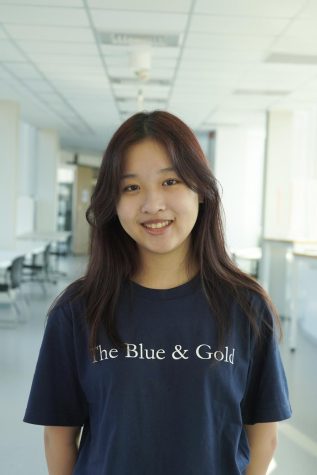 Katherine M. ('24), Staff Writer
Katherine is a staff writer for The Blue and Gold. This year, she is a returning student after moving back from New Jersey. In her free time, she enjoys...