Leadership retreat prepares student officers
The Leadership Retreat was held at school on 14 from 9-12 a.m. Over 100 student officers representing approximately 90 clubs and organizations attended the retreat to build teamwork and leadership skills. Almost every club had a representative, while some individuals represented several clubs. Students were split into five different groups and engaged in five 30 minute sessions.
The purpose of the leadership retreat is to offer instruction, encouragement, challenge and connection to club leaders. All sessions cover topics that allow students to think about various ways to lead as well as different perspectives on leadership. The five sessions were introduced by four teachers. Club finances was introduced by Dr. Long's club finances; Mr. Williams talked about finding new opportunities; Dr. Dodge talked about leadership styles; Mr. Franklin introduced mission statements.  Finally, there were three team building games. 
Due to the COVID-19 coronavirus, some changes were implemented to adjust to the government regulations. Previous leadership retreats had sessions without groups, which meant around 100 students were in the same session as well as in the game bonding activity. This year, smaller groups were made to follow new COVID-19 guidelines. 
Each session was informative and covered many different aspects of being a leader. For instance, Dr. Dodge's lecture talked about the importance of knowing your leading style. She explained two sides of leadership and initiated short activities to get her ideas through. In Mr. Williams's session of finding opportunities, he mentioned many opportunity ideas for clubs and organizations when trying to recruit members. Some ideas mentioned were raffles, school work benefits and games. He also talked about the importance of staying connected with your clubs despite the COVID-19 situations. Even if the school does decide to go online, officers should still find ways to bring their club activities to action. Mr. Williams recommended many ideas such as movie nights, game nights and food parties via Zoom.
Student officers should keep all these lessons in mind as they continue to develop leadership in their clubs and organizations. "I am fully aware that not everyone will remember all the things I have addressed, but I am hoping that it will help get a single message out at the start of the year," Dr. Long, US Dean of Students said. "If nothing else, it allows me to say, hey, weren't you listening at the Leadership Retreat?" 
Leave a Comment
About the Contributor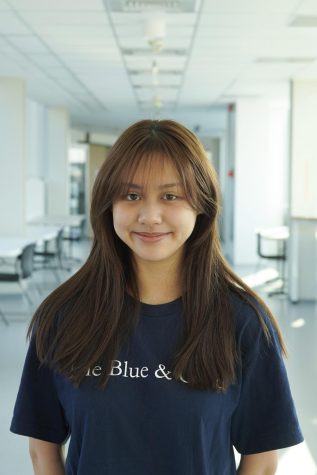 Abby C. ('24), Director of Social Media
Abby is the social media director of The Blue & Gold. She has lived in Taiwan most of her life and enjoys traveling, music, reading and playing with...