Alumna Ms. Kendra Ing ('16) dances her way back to TAS
Alumna Ms. Kendra Ing ('16) has made her return to Taipei American School as the first ever third and fourth grade dance teacher.
Prior to returning to TAS, Ms. Ing graduated from college in 2020 and resided in New York. Due to the COVID-19 coronavirus pandemic situation in the U.S., she decided to move back to Taiwan and assist the upper school dance production at TAS. Ms. Ing received her position in the middle of this past summer. 
"Life [kind of] takes you in a lot of different directions, and this is just where I ended up," Ms. Ing said. "If it weren't for [COVID-19], I would still be in New York, but I was fortunate to be able to come back [to Taiwan] and have this opportunity." 
Ms. Ing discovered her passion for dancing back in eighth grade, when she took her first dance lesson. As she entered high school, Ms. Ing knew that she wanted to pursue a career in dance after graduation. 
"I knew that it was something I wanted to do throughout life, regardless if it was professionally [dancing] or teaching," she said. "Throughout the later years in college, I started teaching [dance] more often and I realized that there was a potential pathway that I could go." 
Ms. Ing believes that alumni faculty are in a distinctive position in which they would feel more comfortable in the TAS environment and more able to connect with other community members easily. 
"Alumni faculty are in a very particular unique position because usually, we come back while we're closer to the culture and shared knowledge that [all the students] have." Ms. Ing said. "I think it can be really powerful to use that to connect to the students." 
One change Ms. Ing identified in the TAS dance community was the decreasing number of students pursuing a professional dance career after college. "We would see a bigger variety of people continuing to dance to different capacities during college or after college [in the past]," she said. "And I don't think we don't get to see much of that anymore." However, the commitment of TAS students to the dance program has remained unchanged, and the program's growth into the Lower School has been an exciting initiative for Ms. Ing to be a part of.
With plans to stay at TAS, Ms. Ing looks forward to discovering how much the dance program has evolved and will continue to, since her graduation in 2016. 
Leave a Comment
About the Contributor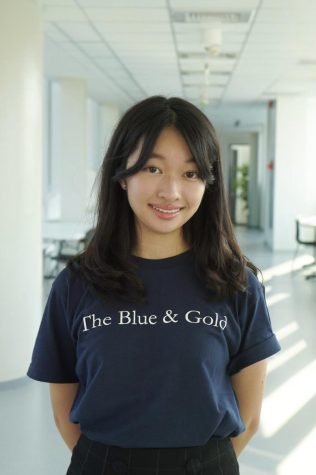 Amber W. ('23), Co-Editor-in-Chief
Amber is the co-editor-in-chief of The Blue & Gold. She has lived in Taiwan her entire life and has been at TAS since first grade. When she is not...