Twin business partners promote sustainable fashion through crochet shop Fuzzl
Fuzzl, founded by Sabrina H. ('22) and Veronica H. ('22), is an online shop selling handmade and customized crochet items. This shop aims to help customers adopt a more sustainable wardrobe and encourage the transition to slow fashion. 
"As consumers, we were falling into the fast fashion hole. When we stumbled across crocheting, we realized that not only is it aesthetic, but it is also a sustainable alternative to fast fashion," Sabrina said.  
Sabrina and Veronica spent a month brainstorming, planning, organizing and creating products for their shop before the launch. They decided on specific color palettes, types of yarn, and other packaging and design options.
After their website and social media accounts were launched, they promoted and encouraged customer engagement by dropping new designs and creating new content. As co-owners of the business, they were involved in every step of the process. "It is a very humbling experience, especially because we turned from twin sisters to business partners," Veronica said. 
As of right now, they have received 25 orders and produced 15 unique crochet products and various customized orders. Their most popular products include scrunchies, where customers can choose their own colors and patterns, and coasters, which includes avocado and bear designs. 
Starting their independent online business came with many challenges. "We are very thankful for the overwhelming amount of support we received, but because our products are handmade stitch by stitch, it was hard to balance the production speed and quality," Sabrina said. 
Many customers were impressed by the efficiency of the ordering system. Jane L. ('22), a customer who ordered a crop top, said that the ordering process was very smooth and she loved the cute designs.  
Despite the large time commitment that goes into making and packaging every order, both Sabrina and Veronica believe that it is a very rewarding experience. "It is always fun to see our customers' and our own visions come to life. The feeling of creating something only using a few skeins of yarn and a crochet hook is magical," Veronica said. 
They hope to expand their business in the future by marketing it to the local community. They are also planning to create content about sustainability for fashion to educate others about the topic. 
Leave a Comment
About the Contributor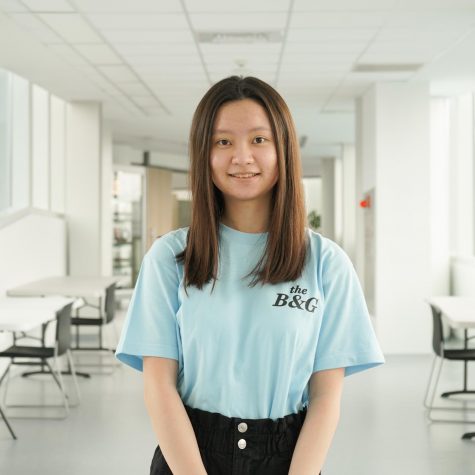 Sharon L. ('22), Managing Editor + News/Sports Section Editor
Sharon is a senior at Taipei American School and the Managing Editor and News/Sports Section Editor for The Blue & Gold. She enjoys reading fantasy...