REVIEW I Grade 10 Summer Reading
[DISCLAIMER: SPOILERS FOR ON TYRANNY, PARABLE OF THE SOWER AND AMERICAN BORN CHINESE MAY BE MENTIONED.]
Over the summer,  each upper school student is assigned books to read depending on their grade level and English class. Honors English 10 students were assigned to read On Tyranny by Timothy Snyder and Parable of the Sower by Octavia E. Butler, as well as the community book American Born Chinese by Gene Luen Yang. 
On Tyranny by Timothy Snyder is a book about lessons from history about how people failed to stop or notice how tyrants imposed their rule upon others. Many of the main themes include being able to see through propaganda, fake news, rebelling against powerful and influential politicians and people. The book focuses on propaganda and how it is used for other's gain, especially for political power.
In my opinion, On Tyranny was intriguing and easy to read. Snyder identifies dangerous political trends in world history and warns readers of the dangers of being ill-informed and oblivious. I enjoyed reading this book as the analysis of trends and events that Snyder wrote about were also relevant and timely. Especially as teenagers are beginning to be more involved with politics, it is important to understand and acknowledge historic trends.  
Parable of the Sower by Octavia E. Butler takes place in a dystopian society in 2024. Lauren, the main character, is a 15-year-old girl living in a gated community, with walls that protect them from the drug-crazed arsonists on the other side. In 2025, Lauren's community is invaded and almost everyone is killed. Lauren and the other survivors begin traveling to find a new home. On their way, they meet Taylor Bankole and begin their journey to his property. At the end of the book, Lauren and the others settle there and call it "Acorn", they begin the first Earthseed community, and Lauren and Bankole get married. This book is thematically about perseverance and acceptance of new beginnings. 
Parable of the Sower was my least favorite summer reading book. In the beginning, the pacing of the book was slow; the plot did not pick up until the book was almost over. Something I did like about the book was how Butler created a feeling of grimness and dystopia. She included many examples of how desensitized everyone was to death, sex and sexual assault. 
In many scenes, Lauren recalls walking by corpses, or victims of rape and barely giving it a thought. Not to mention, Lauren brushes by the fact that she lost her virginity to her uncle at 9 years old and as a 15-year-old, loves sex. Lauren, who just turned 18 years old, marries Bankole, who is about 60 years old at the end of the book. Despite their large age difference, Bankole is quick to give into Lauren's demands and begins his relationship with her even though he knows it is morally wrong. 
American Born Chinese by Gene Luen Yang is a graphic novel about the struggles of fitting in because of your cultural background or ancestry. The book centers around Jin Wang, a new student who struggles to fit in because of his heritage, and Danny, whose cousin Chin-Kee is ruining his life with his alienated behavior as they navigate school. 
American Born Chinese represented many aspects of Asian culture. I liked how Yang made Chin-Kee a walking stereotype of Asian traits and values.  It makes the audience uncomfortable and thus pushes forth the idea that stereotyping people is harmful. I also enjoyed that Yang included Chinese legends and characters in her graphic novel which incorporates Chinese culture and thus embracing her heritage. Overall, I really enjoyed this graphic novel, especially with Yang's many references to Taiwan. 
Leave a Comment
About the Contributor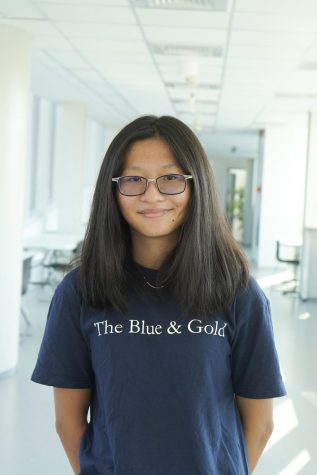 Victoria H. ('24), Online Managing Editor
Victoria is the Managing Editor of Online for The Blue & Gold. She has lived in Taiwan her entire life and has been attending TAS since lower school....