New language teachers aim to inspire students in embracing the power of language learning
Ms. Rosalind Lin (she/her), a new upper school language teacher, will be teaching Mandarin as a Foreign Language 1, along with four lower school heritage track courses this year. 
Before coming to Taiwan, Ms. Lin studied diplomacy as an undergraduate and journalism for her Master's Degree. She taught in many places, including Florida and India, where she has come to realize her love of teaching. 
"Every time I learn a language, I feel like I have opened up to the world," Ms. Lin said. She hopes that her students can embrace the process of language learning without worrying about grades for the course. "Learning a language is a lifelong journey, so it is completely normal and okay to make mistakes in the beginning," she said. 
Besides teaching, Ms. Lin also has a great passion for traveling. She learned Spanish, Italian and French, and lived in each of those countries for a few months to learn about their cultures.
As a teacher, Ms. Lin greatly values the well-being of her students, and she is determined to make her classes both fun and engaging. She often incorporates culture and philosophy in her classes  through teaching about Chinese holidays and historical events. She uses interactive activities to make her classes more lively.  
According to Ms. Lin, one of the greatest challenges in teaching is adjusting to each student's needs. "Everyone has different learning styles, so it is important for me to respect their individual skill sets and perspectives," she said. 
When comparing her experiences with teaching in the upper and lower school, she explains that upper school students tend to be very enthusiastic and motivated to learn, especially since mandarin classes are optional. As for lower school students, while they tend to need more classroom management, they also have many creative and unique ideas. 
Outside of work, Ms. Lin enjoys spending time in nature, whether it is hiking, swimming or exploring. She also loves writing, dancing, watching movies, meditating and practicing yoga. 
As we continue further into the school year, Ms. Lin aims to increase her student's knowledge of Taiwanese and Chinese culture and language, and hopes that her students can search for their interests and passions through the process of language learning.
Ms. Louisa Christen (she/her) is both an alumna of Taipei American School and a new Spanish teacher this year. She is very excited to be back in her own community, where she will be teaching Spanish 2, Spanish 4 and AP Spanish Language and Culture. 
Ms. Christen is unsurprisingly a huge fan of learning languages. She attended college at Georgetown University, where she studied International Politics and Latin American Studies. After graduating, she joined Teach for America, an organization that aims to end educational inequity. Before returning to TAS, she also taught Spanish at a public school in Washington D.C. 
One of the greatest challenges that Ms. Christen is currently facing is getting to Taiwan. "It is definitely challenging to teach on a flipped schedule, and I am very anxious to get to TAS and meet my students finally in person," she said. 
She is very excited to share her own passion for learning with our community, and participate in the programs and activities that students are involved in at our school. 
As a teacher, Ms. Christen believes in providing opportunities for her students and embracing the power of languages in improving people's personal, academic and professional lives. She aims to inspire her students by sharing her love of language learning. 
Leave a Comment
About the Contributor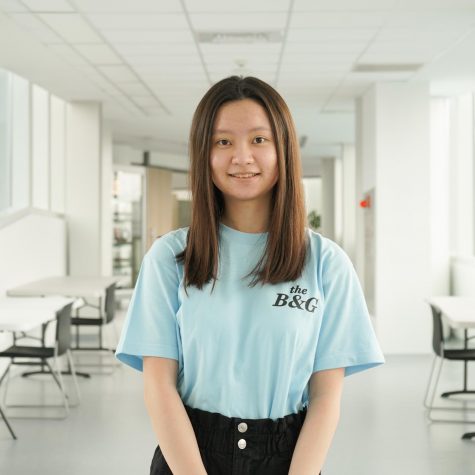 Sharon L. ('22), Managing Editor + News/Sports Section Editor
Sharon is a senior at Taipei American School and the Managing Editor and News/Sports Section Editor for The Blue & Gold. She enjoys reading fantasy...