TAS communications launches new app to streamline schoolwide communications
The Taipei American School (TAS) Communications Office has launched an app to streamline schoolwide communications, with a built-in calendar, easy access to school news and a resources page. The app has been published live on Sept. 17 on app stores. 
Dr. Kathy Limmer, the assistant head of school for advancement, supervised and oversaw the app's development. Ms. Sophia Weng, the IT webmaster, worked closely with Finalsite, the website provider for TAS as the internal project lead, while Ms. Lindsey Kundel, the director of communications and marketing, assisted as the head of the TAS communications office. Mr. Dan Hudkins, the chief information officer, assisted the project along the way. 
The app has three main functions: a school calendar, a display of school news articles and a resources page. With the discontinuation of the Parent-Teacher Association (PTA) print calendars, the school calendar on the app is expected to alleviate some of the inconveniences of accessing the school calendar through logging into the TAS website portal. 
The app's calendar has a filter function that can cater the displayed calendar to one's affiliation to the school. A student, for instance, may select "School Events" and then click on "Filter" to view a calendar with events relevant to their schedule. Users are thus able to interact with the app and personalize it according to their own preferences. "Within three clicks, you're done," Ms. Kundel said. 
Other features of the app include easy access to TAS news and resources. "If you want to find all of the news that we have published, say within the last year, it is all right at the touch of a button," Ms. Kundel said. The resources provided include links to PowerSchool, lunch menus, athletics schedules and more. 
The development of this app exhibits the school's renewed goal of streamlining communication. "I know that this is the first step in a multilayered communication strategy to improve how people receive communication… from the school, but also how they participate," Ms. Kundel said. 
The app is a product of the team's persistent work over the past four months, starting from June. "I've been working on this project for a long time," Ms. Weng said. "Finally, the baby is coming."
"Please download it. Please tell other people to download it. Please provide us feedback at the communications email," Ms. Kundel said. Feedback can be emailed to [email protected]. The app can now be downloaded on an app store of choice.
Leave a Comment
About the Contributor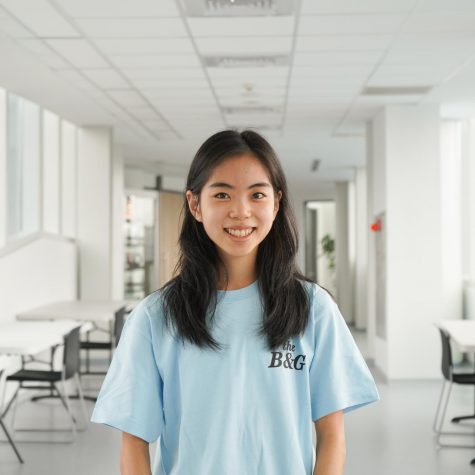 Lana L. ('22), Editor-in-Chief
Lana is the editor-in-chief of the Blue and Gold. She loves to indulge in books and romcoms. She also enjoys hiking and running outdoors. Economic inequality...