"Shang-chi and the Legend of the Ten Rings" breaks away from stereotyping Asians
Overall Rating: 5/5
Despite the fact that it took Marvel a decade to release their first Asian superhero film, the wait was definitely worth it. "Shang-chi and the Legend of the Ten Rings" not only delivered a captivating plot, but more importantly, walked away from stereotyping Asians.
Previous films in the Hollywood industry have stereotyped Asians, including Disney's "Mulan." Many movies portray the elderly characters as wise mentors, guiding the main characters to success. Such characters were presented as correspondences to Confucius and other "wise" philosophers.
Another stereotype the Hollywood industry has created for Asians are the skin tones. Despite the fact that Moana from "Moana" is Polynesian and Raya from "Raya and the Last Dragon" is Southeast Asian, Disney's creation of both characters have the same skin tones, round eyes, and expressions. "Raya and the Last Dragon" also had a lack of Southeast Asian actors for the voice cast, receiving multiple criticism. However, "Shang-chi and the Legend of the Ten Rings" finally breaks out of the practice of stereotyping Asians.
The film centers around how best friends Shang-chi (Simu Liu) and Katy (Awkwafina) are forced to leave their lives in San Francisco behind and return to China, where Shang-chi finds out that he has to deal with fighting the "Ten Rings," the group who gave Shang-chi his powers. The "Ten Rings" first appeared in the Marvel Cinematic Universe's (MCU) first film, "Iron Man," where they also played an essential role in allowing Tony Stark (Robert Downey Jr.) to create the first "Iron Man" suit by imprisoning him in Afghanistan.
The movie leaves the stereotype in elderly Asians being a wise mentor to the main protagonist by presenting Shang-chi's father as the ruthless and unjust leader of the "Ten Rings," a terrorist group in the MCU. The film also refutes the common stereotype that all superheroes are powerful, determined and resistant by revealing that Shang-chi is a superhero who is not only as powerful as most superheroes are, but someone who also holds the value of affection and vulnerability.
Overall, "Shang-chi and the Legend of the Ten Rings" is a solid Marvel movie, but what is the most enjoyable about the film is that it created a pavement for future Hollywood movies to break away from stereotyping Asians.
Leave a Comment
About the Contributor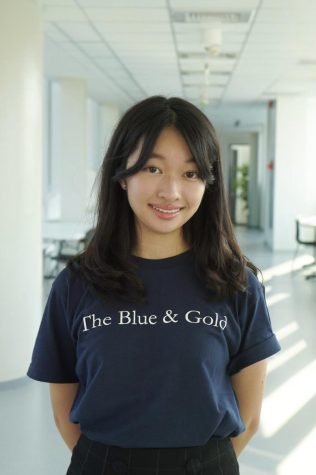 Amber W. ('23), Co-Editor-in-Chief
Amber is the co-editor-in-chief of The Blue & Gold. She has lived in Taiwan her entire life and has been at TAS since first grade. When she is not...