Q&A with TAS art school applicants
College applications and art college applications differ in many aspects, ranging from required essays to creating a portfolio. Students who apply to art schools often include a variety of mediums in their portfolio like digital media as they showcase their interests and uniqueness through drawings and paintings. Different phases including organization, assembling, creating, developing and editing are all incorporated in the process of creating an art portfolio. Depending on the situation, having themes would make the art portfolio more cohesive, however, it all depends on your interests and your limitations. Both applications require time and effort, let's talk with two senior art students as they go through the process of applying to art schools.  
Alex H. ('22, he/him) is widely interested in water color, acrylic painting and charcoal art. His journey with art began when he was just three. Alex motivates everyone to try art in TAS; with all the expensive gadgets the tuition goes to and the opportunity to use them, Alex hopes everyone can join an art class. 
What is your favorite thing about art? 
I think my favorite thing about art is that [you can] express yourself. And in a way it's kind of a really cool skill to kind of brag about. The good thing about art is I can use it to spend time during class when it's boring and doodle. It's really relaxing [and] relieves a lot of stress and in a way I feel like it allows me to express my creativity while at school, [when you] usually cannot do that.
How and when did you decide that you were going to go towards an art major? 
I think it was last year when our college counselor was asking us about it and looking through it. I cannot imagine myself doing things that are not art. So I have to actually settle on a design major or architecture major. 
What were some challenges and how did you overcome them?
To be honest, in general, if you made a mistake, you just have to move on and recover from it. I kind of started late on my portfolio, and there's nothing really to argue about. The only thing to recover from it [is to] make more pieces faster. Also because [of] the pandemic, class got canceled, so I just learned to adapt and be independent, to create my pieces, even though there's no guidance from teachers or other peers in general. I really like it. In fact, a benefit I do get from this process is that it kind of pushed myself to my limit to understand where my level of art skill is, and to maximize that and show it.
What are some tips or advice to those who are interested in taking an art major? 
Don't procrastinate like literally don't procrastinate. Work on your pieces as early as possible. If you have time, you might want to explore different mediums, I would say an artist that's more adaptable to different types of materials, or different types of challenges. [You] want to think outside the box and place your own creativity to the maximum. Most important[ly], I feel like it's just time management, as I said before, don't procrastinate. If you've decided already, then start doing it as soon as possible.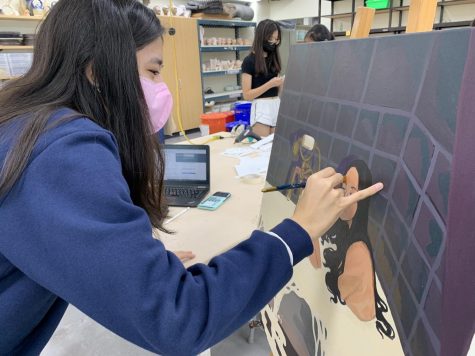 Jacqueline S ('22, she/her) enjoys exploring different sides of art, ranging from digital to acrylics. Her passion for art started from looking at pretty and intriguing things. Jacqueline encourages everyone to push themselves to their best limits when doing things they have passion for. 
What is your favorite thing about art? 
My favorite thing about art is just being able to create things. I personally like creating characters because I like watching shows and stuff. And I guess, giving them their own story, and having a visual aspect to it. That's what I like to do. And that's what I like about drawing characters, but overall for art, having something visual, or like something [to] watch, looking at pretty things that make something look nice. 
How and when did you decide that you were going to go towards an art major? 
I think I probably had a similar idea. So I read this comic called Blue Period. And before I was interested in pursuing art as a hobby, but I never thought about actually majoring in it. After reading it out, I felt I was relating to the protagonist slightly.  I realize I do want to pursue it, and it is something that brings me joy and I do want to get better at it. Like with professional help. So that's when I decided I wanted to major in art.
What were some challenges and how did you overcome them?
I think it's just the time, I realized that pretty late and it would have been better if I realized it earlier. The deadlines are coming up pretty soon, so I'm still worried about not having enough pieces. I guess it's just trying to do as much as I can, [and] constantly kind of pushing myself to do my creative process; to create something at least.
What are some tips or advice to those who are interested in taking an art major? 
Always try to be interested. I try to make it interesting, like once you get bored of it, try something new. I think Ms. Michelle Kao, the art department head, told this to me for advice: If it gets boring, make it interesting. Art is always changing, and also I guess for people who think that because my dad is kind of iffy about art, he still supports it, but just know that if you want to do it, just do it.
Leave a Comment
About the Contributor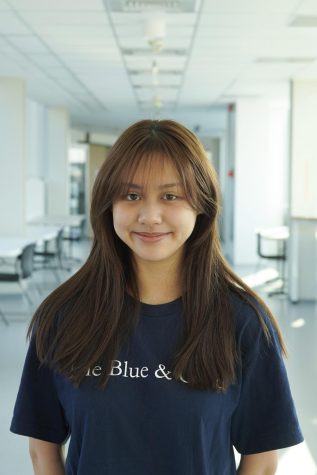 Abby C. ('24), Director of Social Media
Abby is the social media director of The Blue & Gold. She has lived in Taiwan most of her life and enjoys traveling, music, reading and playing with...