The best and most controversial looks at Met Gala 2021
The Met Gala is arguably the biggest and most exclusive annual fashion event. This year, it was held in New York City as a fundraiser for the Metropolitan Museum of Art's Costume Institute. The theme of the exhibition was "In America: A Lexicon of Fashion."
With such a broad theme, the nation's wealthiest celebrities and politicians each took their own interpretation, creating looks that were not entirely cohesive or on point with the theme. Fashion in the United States has changed in a major way, potentially causing this year's event to miss the mark, producing many divided opinions on the outfits worn.
2 great looks
Gemma Chan
Let's start with my personal favorite look of the night, Gemma Chan, paying homage to Hollywood's first Chinese-American actress: Anna May Wong. Wong was a trailblazer and fashion icon who paved the way for many Asian American actresses after her. Chan's dress, designed by Nepalese-American, Prabal Gurung, offered a modern interpretation of Wong. Using archive photos of Wong as a reference point, Chan wore a black sequin mini dress emblazoned with a dragon motif similar to the dress that was worn by Wong in past photographs. This look was completed with a dramatic pastel green train and hair in braids, a style that was also previously seen on Wong. Chan was able to pay homage to an iconic Asian American actress while making her mark on the Met Gala Audience.
Yara Shahidi
For Yara Shadhidi's Met Gala look, she honored iconic fashion icon and entertainer and activist, Josphine Baker. Baker was the first black woman to star in a motion picture and was also very influential in the civil rights movement. Working with her stylist and Dior, Shadhidi incorporated elements of Baker's wardrobe into her gown. By using photos for research, the Dior team was able to create a stunning strapless, embroidered gown, cinched at the waist with a cinnamon hued belt all topped with a tulle cloak that was similar to Josphine Baker's original look. This look was paired with a gold tulle veil, intricate beaded gloves, and a necklace with yellow diamonds. The extensive research paid off as she wore one of the best looks of the night.
2 controversial looks
Cara Delevingne
Everyone who steps onto the red carpet at the Met Gala has an audience of millions. This year, Cara Delevigne decided to put that attention to use. Her custom Dior look was a white breastplate with the words "Peg the Patriarchy." She stated that her look reflected ideas of women empowerment and gender equality. While it is nice to see her sending a powerful message, the phrase "Peg the Patriarchy" is trademarked by Luna Matatas, an independent artist and sex educator who received no recognition from Delevigne or Dior. It would have been so easy to credit Matatas or even work with her for the look. Instead, Delevigne's outfit directly steals the work of LGBTQ+ women of color.
Alexandria Ocasio-Cortez
United States Representative Alexandria Ocasio-Cortez's (AOC) look was especially notable, partly due to the wave of backlash she received. AOC seized the opportunity of being a publishing representative at a highly publicized event to bring attention to a political statement. The congresswoman wore a white gown designed by sustainable designer Aurora James. The dress was splashed with the political slogan "Tax the Rich" across the back in red. The outfit was paired with a beautiful pair of red heels and a matching bag. Soon after her gown was revealed, she received a variety of critiques with many saying she was a fraud for attending an expensive event while advocating for taxation of the rich. This was countered with the fact that New York officials do not pay for their tickets. Many also praised AOC for wearing the statement dress directly, using the Met Gala to make a political statement.
Leave a Comment
About the Contributor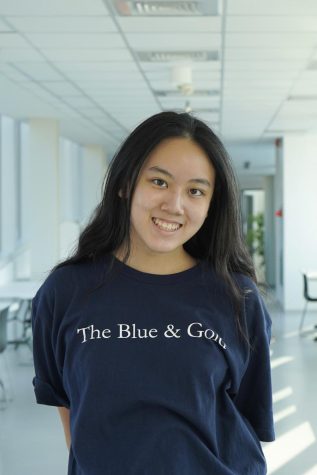 Ariel L. ('23), Print Managing Editor
Ariel is the Blue & Gold's Managing Editor of Print. She has lived in Taiwan for most of her life and spends her free time reading, sewing and watching...