"The Eternals" replaces "Thor: The Dark World" as Marvel's worst movie
After a delay in releasing the film due to COVID-19, Marvel released one of its most anticipated films of the year, "The Eternals," on Nov. 5, introducing a new line-up of superheroes to the Marvel Cinematic Universe (MCU); however, not even the A-list actors could save the movie's ratings from plummeting, making it Marvel's lowest rated movie according to Rotten Tomatoes.
The film focuses on the Eternals, an immortal alien race who have lived on Earth for more than seven millenia, battling their nemesis group, the Deviants. The movie takes place after the events after "Avengers: Endgame," where half of the human population that have disappeared reemerged, causing a surge in the population. The cast includes Gemma Chan, Richard Madden, Kumail Najiani, Lia McHugh, Brain Tyree Henry, Lauren Ridloff, Barry Keoghan, Don Lee, Harish Patel, Kit Harington, Salma Hayek and Angelina Jolie.
The film faced various criticisms, from the unfulfilling storyline, to the character developments throughout the movie and to unfortunately angry homophobic outbursts from many fans due to the introduction of characters from the LGBTQ+ community.
The biggest problem with the film was the execution of the plot. The constant flash forwards and flashbacks are not only confusing but frustrating to follow as changes in the time sequence made it difficult to comprehend the plot of the movie. The plot was also very rushed towards the end, drowning out all of the supposed climatic scenes, such as when the team was battling Kro, the leader of the Deviants.
Another issue was the overwhelming number of main characters in the movie, with around ten Eternals playing the leads of the film. In previous "Avengers" movies, characters had their own solo films providing their backgrounds before they were brought together in the "Avengers" films in order to exhibit their character developments. However, Marvel simply threw a team of ten superheroes at fans without allowing the fans to learn about each character and their character development.
Ultimately, although "The Eternals" provides one of the most ethereal and breathtaking visuals in the MCU, it lacks the robust plot of a typical Marvel film through its rushed and anti-climatic plot, easily bringing it down to one of Marvel's worst movies. Thus, "The Eternals" is not worth watching unless devout Marvel fans want to keep up with the MCU's storyline.
Leave a Comment
About the Contributor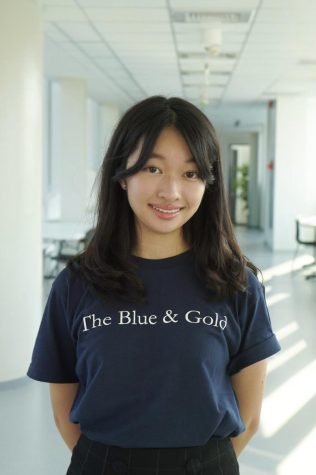 Amber W. ('23), Co-Editor-in-Chief
Amber is the co-editor-in-chief of The Blue & Gold. She has lived in Taiwan her entire life and has been at TAS since first grade. When she is not...