Should parent teacher conferences continue on zoom?
The annual parent-teacher conferences were held on zoom this year due to COVID-19 restrictions that prevented parents from coming on campus. These conferences occur at the end of quarter one and are a chance for teachers to update parents on their child's performance in the course.
This is the first time that conferences have occurred online in the history of Taipei American School (TAS). Typically, classes are not scheduled and parents are invited to school during a specified time period. Teachers are spread out across the middle school gym and parents are given a map of where each teacher is located.
Currently, there is new official news regarding the continuation of online conferences, however, I think most people would be happy to see them continue. The next conferences occur in the second semester, so the decision to go online again will likely depend on any changes with COVID-19.
For online conferences, parents pre-scheduled an appointment to talk with each teacher. "You have a list of who you are talking to well in advance," Upper School Biology Teacher Dr. Jonathan Hsu said. "Since there was a schedule it was easier to get the student's files and information ahead of time," he said.
The meetings were limited to eight minutes with short breaks in between. "I felt like eight minutes was enough to say everything we needed to," Mrs. Cheryl Lagerquist, upper school dance teacher, said. "However, with new students and new student parents I spoke a little bit longer," she said. "If it continues, maybe in the future they could have longer appointments."
The teachers also appreciate the allotted time to take breaks, since breaks were hard to come by during in-person meetings. "I feel like I knew exactly what time to be there," Mrs. Lagerquist said. "If I needed to go to the bathroom, I knew when I could go."
One of the main challenges faced during in-person conferences is the waiting time to get to each teacher. Since there is no detailed schedule, it is difficult to know whether a teacher is free to talk or if they are speaking with another family at the time. Since Mrs. Lagerquist has children who attend TAS, she also felt that it was more convenient to meet with her child's teachers. Typically, she said it can take up to two hours to meet with her child's teachers, but she was able to complete online conferences in under an hour. "As a parent I really appreciated not having to wait," she said.
In addition, this was the first time teachers were able to interact with parents and students without masks in a long time. "I loved that I could see their faces," Mrs. Lagerquist said. "Because in the gym, it's hard to hear what they are saying, so without the mask I could hear and understand them better."
"It feels much more private because no one else is around and there are less distractions," Dr. Hsu said.
Though there were some concerns about potential technical difficulties, most teachers did not encounter any issues. "Almost all people showed up on time, there were no connection issues, and they all turned on their cameras and were really happy to meet," Dr. Hsu said. In fact, it seems that more people showed up at online conferences than in-person. "I noticed a lot more students that were also in attendance," Dr Hsu said. He stated that he appreciated being able to address his students directly since it was easier to communicate things that he also wanted to share with parents.
In-person meetings have the value of providing face-to-face interactions, however, considering the current state of mask-wearing, this does not seem to have as much of an impact. Additionally, people are valuing convenience more and more, including where they want to have the meeting and what they have to wear. The clear scheduling process for online conferences was also much preferred over the unpredictable in-person meetings.
Overall, the successes of online conferences seem to outweigh the benefits of in-person meetings, especially given the current COVID-19 situation.
Leave a Comment
About the Contributor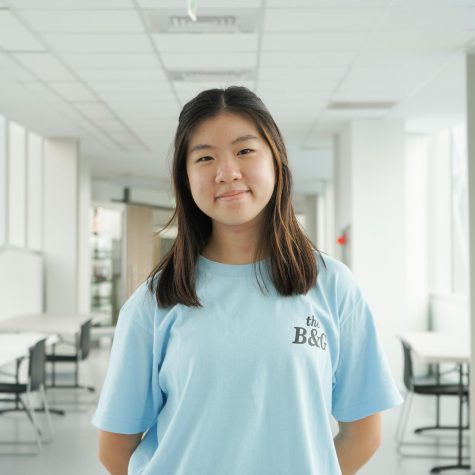 Annie H. ('23), Staff Writer
Annie is a junior at Taipei American School. She is originally from Seattle, Washington and came to Taipei in 8th grade. She is passionate about dance,...