#CancelClimateChange: Three students present ideas at the Climate Science Olympiad finals
The ClimateScience Olympiad is a competition where participants choose one of three prompts relating to climate change and write a research paper on the topic of their choice and their brainstormed solution. The three prompts given this year were: creating a global carbon tax system, coming up with ideas for sustainable energy, and coming up with solutions for the Sustainable Development Goals (SDGs) by the United Nations. The Olympiad is divided into four rounds, the qualifiers, quarter-finals, semi-finals, and finals. The finals took place online this year and the top three teams split a prize pool of $15,000 USD. 
A team of Taipei American School (TAS) juniors consisting of Ethan D. ('23) and Patrick H. ('23) participated in the 2021 ClimateScience Olympiad and made it to the finals where they placed 23rd out of 10,000 total participants, while Dylan L. ('23) completed alone and placed 27th. 
Patrick and Ethan chose to propose a global carbon tax system. The basis of their plan was to create a hybrid system between the cap and trade system and the carbon tax system. The cap and trade system is where the government sets a cap on the amount of carbon that can be admitted. 
On the other hand, the carbon tax system, where each tonne of carbon emitted above a certain threshold gets taxed. They also conducted research regarding the long-term effects of this system on the economy, environments and more. 
Finalists were given the opportunity to present their solutions on a world stage at the United Nations Climate Summit (COP26), allowing students to be more involved in global politics regarding climate change. 
"We're passionate about climate change and helping to solve it. If we can contribute solutions that will be seen by the global community and by the UN summit, anything that we can do to contribute is worth doing," Ethan said. 
"Politics and the economy are subjects that are involved in this competition, and we're pretty passionate about those subjects as well," Patrick said. 
Ethan recommends more of the TAS community to get involved with the Olympiad as it is free to join and only takes a couple of hours. Besides the prize money, creating plans and presenting them to help prevent climate change are big motivators to get involved. 
A new TAS club, "Climate Change Club," is led by Dylan and is designed to help students get involved and prepare for the ClimateScience Olympiad and organize outings to create awareness for climate change. 
"The Climate Change Club is going to be an official ClimateScience club, meaning we will be able to offer the ClimateScience Olympiad to all TAS students," Dylan said. "We have 3 finalists and 2 semifinalists in our leadership team."
Leave a Comment
About the Contributor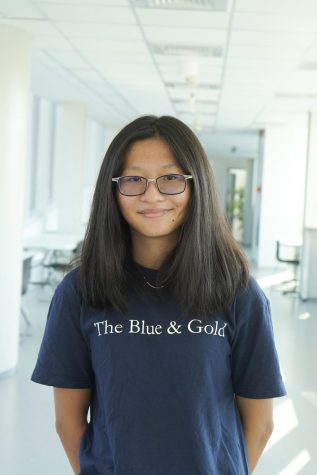 Victoria H. ('24), Online Managing Editor
Victoria is the Managing Editor of Online for The Blue & Gold. She has lived in Taiwan her entire life and has been attending TAS since lower school....