H-block bathrooms should provide free sanitary products
The topic of menstruation has always been tabooed, especially in schools, where students often experience discomfort whenever they hear the word "period." Despite social media's normalization of periods, most students still feel self-conscious whenever they are on their period, many fearing not having their products near them when needed or their peers seeing them holding a pad.
One of the biggest fears many students have is not having a sanitary pad with them when they get their period at school as the likelihood of getting "accidents" increases. Taipei American School (TAS) has sanitary product machines stationed in the middle and upper school libraries, allowing anyone in need of sanitary pads to obtain one for free; however, the Sharon DiBartolomeo Hennessey Upper School building (H-block) lacks the free sanitary pads machine despite the fact that many students often need the products.
When Mrs. Carol Youssif (she/her), the middle school librarian, first came to TAS, she realized that the middle and upper school libraries did not provide sanitary product machines. She contacted Mr. Mike Dodge, the director of facilities, who then worked to install the machines in both bathrooms. "[Dr. Dodge] gave me options for places that you could buy [sanitary products] locally and we talked about what the process would look like," Mrs. Youssif said. "And [the machines] were installed in less than a month."
A reason why the H-block bathrooms should supply free sanitary products to students who need them is that many students feel uncomfortable asking an adult or peer for a pad. Having the machines installed in the bathrooms will create a more secure environment for students in need of sanitary pads as students can acquire them from the machine.
It is the school's responsibility to ensure that all students feel comfortable in the environment, and supplying products for students will guarantee that they will always have "back up pads" even when they forget their own pads, minimizing the possibilities of having accidents.
"As somebody who has over the years of working in the middle school, we have had girls have accidents here and for a number of reasons they are unprepared," Mrs. Youssif said. "And not having a machine I felt was not an option for us."
Overall, free sanitary products should be provided to students in the H-block as it is essential in ensuring that all students feel secure at school without having to go through the uneasiness in asking for the products. "I don't think that there shouldn't be so much stigma attached to saying 'I need help with [getting] sanitary pads,'" Mrs. Youssif said. "Please ask if the machine is empty and [if you need] a machine because the school has been wonderful at providing that."
Leave a Comment
About the Contributor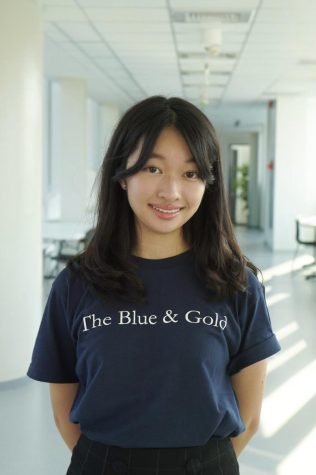 Amber W. ('23), Co-Editor-in-Chief
Amber is the co-editor-in-chief of The Blue & Gold. She has lived in Taiwan her entire life and has been at TAS since first grade. When she is not...