Cheerleading Through the Decades
The Taipei American School cheerleading program was a treasured tradition here for many decades. From the late 1950s to the early 2000s, middle and upper school students cheered on their fellow classmates in basketball, volleyball, and soccer. Although the program was eventually discontinued, the sport's evolution leaves behind many fun memories for alumni and former faculty.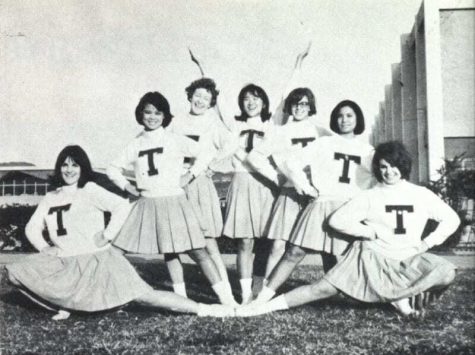 Cheerleading in the 1960s and 1970s
According to past yearbooks, the cheerleading program started in 1958. The cheerleaders had to try out at the start of the year, where they were divided into two teams: varsity and junior varsity. According to Winnie Tang '65, the tryouts received a lot of engagement from the students, who watched as the cheerleaders performed in front of a panel of faculty. "Preparing for the tryouts was the most challenging part because you're always afraid of not being selected, so you want to try your best," remembered Winnie.
The cheerleaders had routine practice sessions almost every day of the week, where they choreographed their own cheers and perfected different cheerleading techniques. They also designed their own uniforms, which they wore along with pompoms while cheering for TAS basketball, volleyball and soccer teams throughout the year.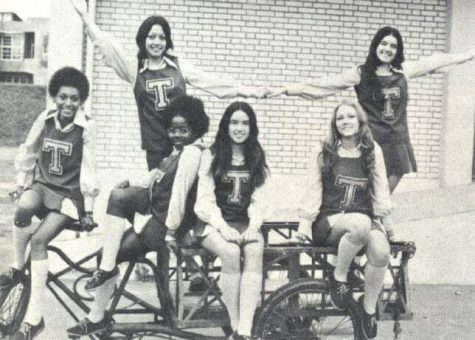 Cheerleading meant a lot to the students who took part. Bernadette Toner-Whitney '79 said, "I absolutely loved being a cheerleader. It gave me an outlet to express my school spirit and share this passion with all of my classmates."
Bernadette came to Taipei in 1974 with her family. She tried out for the cheerleading squad in Grade 8 in 1975, and joined the junior varsity squad her freshman year. During her sophomore year, she was elected captain.
At that time, the cheerleading program was very much influenced by cheerleading trends from the United States. "We used to have these cheerleading magazines from the US with very small pictures of teams. We would take the photos to a local tailor, and they would create our uniforms. Because I love artifacts, I've held on to a lot of my TAS cheerleading memorabilia," said Bernadette. She also contributed four cheerleading uniforms, two sweaters, and two pom poms to TAS, which are now on display in the Upper School Information Commons.
What did cheers sound like at the time? According to Winnie, one cheer called "Go Tiger" began like this: "TAS, around the world, and here we come! From the north to the south, from the east to the west, TAS Tiger is the very best."
According to Bernadette, cheerleading styles have evolved a lot over the years. "Cheerleading was more robotic back then," said Bernadette." It's more dance-oriented these days."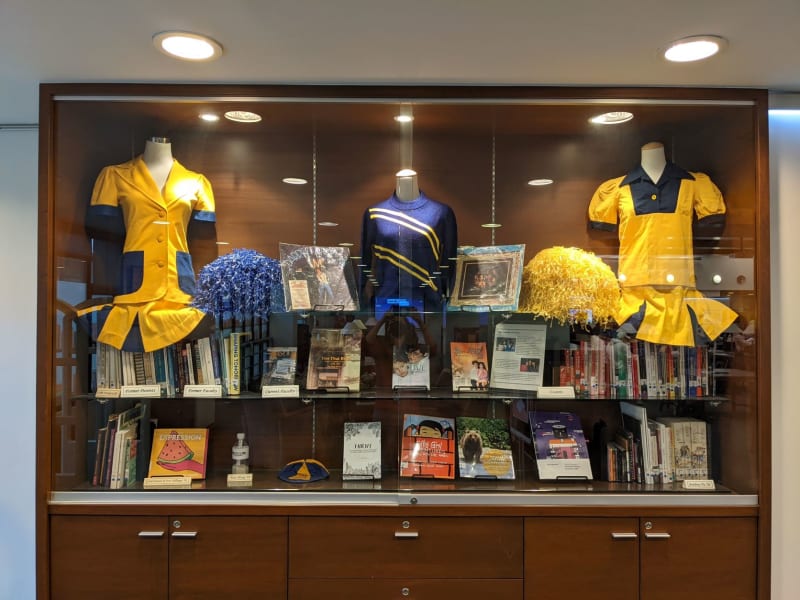 Cheerleading as a Sport
The cheerleading program started as a single-gender sport for middle and upper school girls, but boys joined the sport as the program expanded and peaked in participation in the late 1980s. Former Associate Athletics/Activities Director Ms. Kathy Culter recalled seeing the team doing complex stunts involving pyramids and flyers around that time.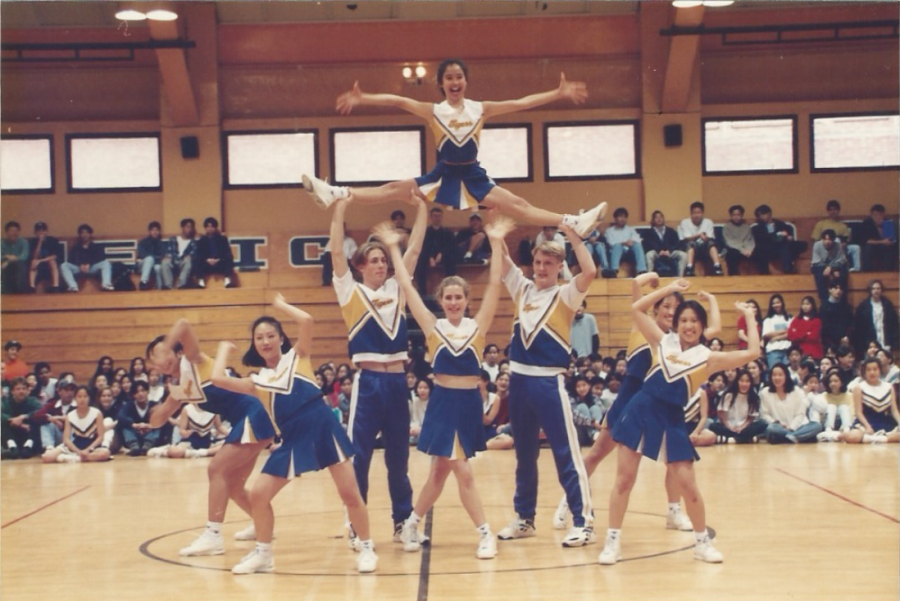 Debby Krieger Bever '90 credited fellow teammates with making that happen. "We were the only squad in our conference that had male cheerleaders. Because of the guys, we were able to do much more complicated stunts and with more safety, because they were able to catch us and spot us." In 1990, three boys were full varsity members of the cheerleading squad – Michael Lemme '92, Peter Hexter '91, and Alan Crooks '90. "With the three of them, we were able to do stunts just like the teams in the US," remembered Debby.
Erin Mahon Wright '93 was captain in her junior and senior years. "Being a cheerleader was very physically demanding, and required a lot of mental concentration. We had to memorize about 150 cheers, dance routines, and stunts," said Erin. Lianne Lim '94 agreed: "We worked hard in all our routines, sourcing complex dance choreographies overseas then breaking down the moves step by step ourselves." Lianne joined cheerleading as a freshman and served as captain in the 1994 school year.
Christina Chen '97, a four-year varsity cheerleader recalled cheers from that time period. "One of the biggest challenges was coming up with new and dynamic routines that could wow the crowds," she said. "If I think about it, we were quite young back then and never really received proper cheerleading training other than from our own parent-led dance classes." During her time at TAS, Christina also founded the Wish for Kids club and served as the student government president during her senior year.
According to Samantha (Wong) Campbell '97, who was a cheerleader from 1993 to 1997, "the biggest challenge for the team was proving themselves to be taken seriously. "Many people don't think cheerleading is a sport, but we sure did practice just as hard as any other athlete!" said Samanatha. "We spent hours and hours rehearsing and that in itself is quite challenging as well. It was always a bit of a struggle finding places to practice as well." Samantha attended TAS from kindergarten to graduation, and she was also the co-editor-in-chief of The Blue & Gold during her time here.
Mrs. Nanette Carreon-Ruhter, who served as the faculty sponsor for both cheerleading and The Blue & Gold, agreed. "We practiced a lot, even Saturdays and Sundays and after school," said Nanette. "These girls were indefatigable. They were such perfectionists." Nanette also taught English in the Upper School, and her two sons Ignacio '96 and Miguel '95 both attended and graduated from TAS.
"I originally got involved in cheerleading because my boys played basketball. The girls were in my English classes, and they needed a sponsor," said Nanette. "Since I waited for my kids who were at practice, that's how I started working with the cheerleaders. I didn't know much about choreography, but I was a mother hen. I gave them advice, and we became like a family."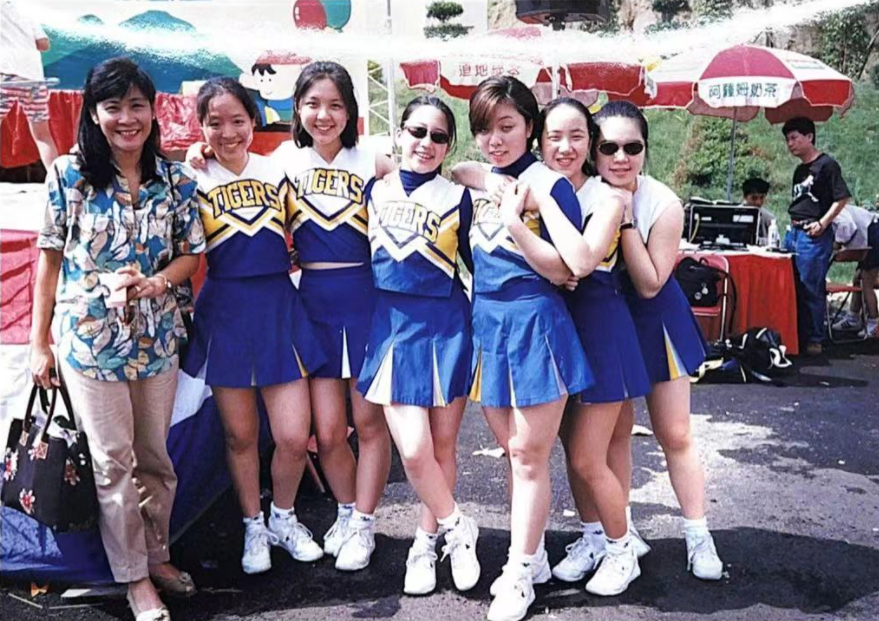 Memories of Traveling
The cheerleaders also traveled with other athletic teams on various trips to compete against other schools. Many alumni cheerleaders specifically recalled cheering at the Morrison Academy in Taichung. They also traveled to Hong Kong International School (HKIS) for a Holiday Basketball Tournament every year.
Kathy Cutler remembered, "Traveling to the tournament over the Christmas holiday was a big event for many families. Hong Kong was always really festive with holiday lights everywhere!" The Hong Kong trip was the highlight of the year for the cheerleading program, as cheerleaders from each school competed against each other in addition to supporting their respective teams on the sidelines. "They were an important part of our TAS teams as they provided great support and enthusiasm cheering during all the basketball games at the HKIS Holiday Tournament," said Kathy.
Christina remembered cheerleading as a fun program. "The TAS's cheerleading program back in high school was quite competitive. The varsity basketball team was one of the best in the region so knowing that we could cheer for the very best and attend the yearly Christmas Tournament at HKIS was very appealing to many."
Although the IASAS governing body never approved traveling to the various IASAS tournaments for cheerleaders, the cheerleading team still participated when TAS hosted IASAS in Taipei by performing cheers and chants with the Tiger Mascot. Cheerleaders from the early 1990s also remembered visiting Okinawa for a basketball tournament.
Nanette remembered the great atmosphere at TAS during IASAS competitions. "When IASAS was at TAS, it was really fun. The spirit we had at TAS was really incomparable. I've been looking for that ever since. The parents were always there. TAS was really the hub of everyone's existence there. Everyone attended plays and games, and IASAS was entertainment for everyone."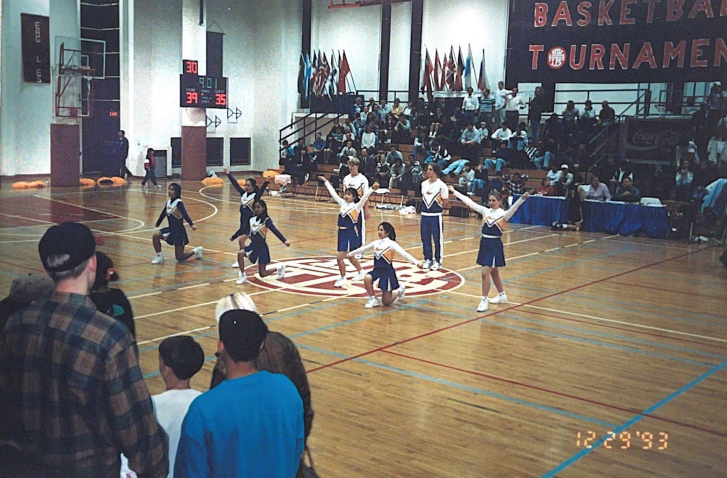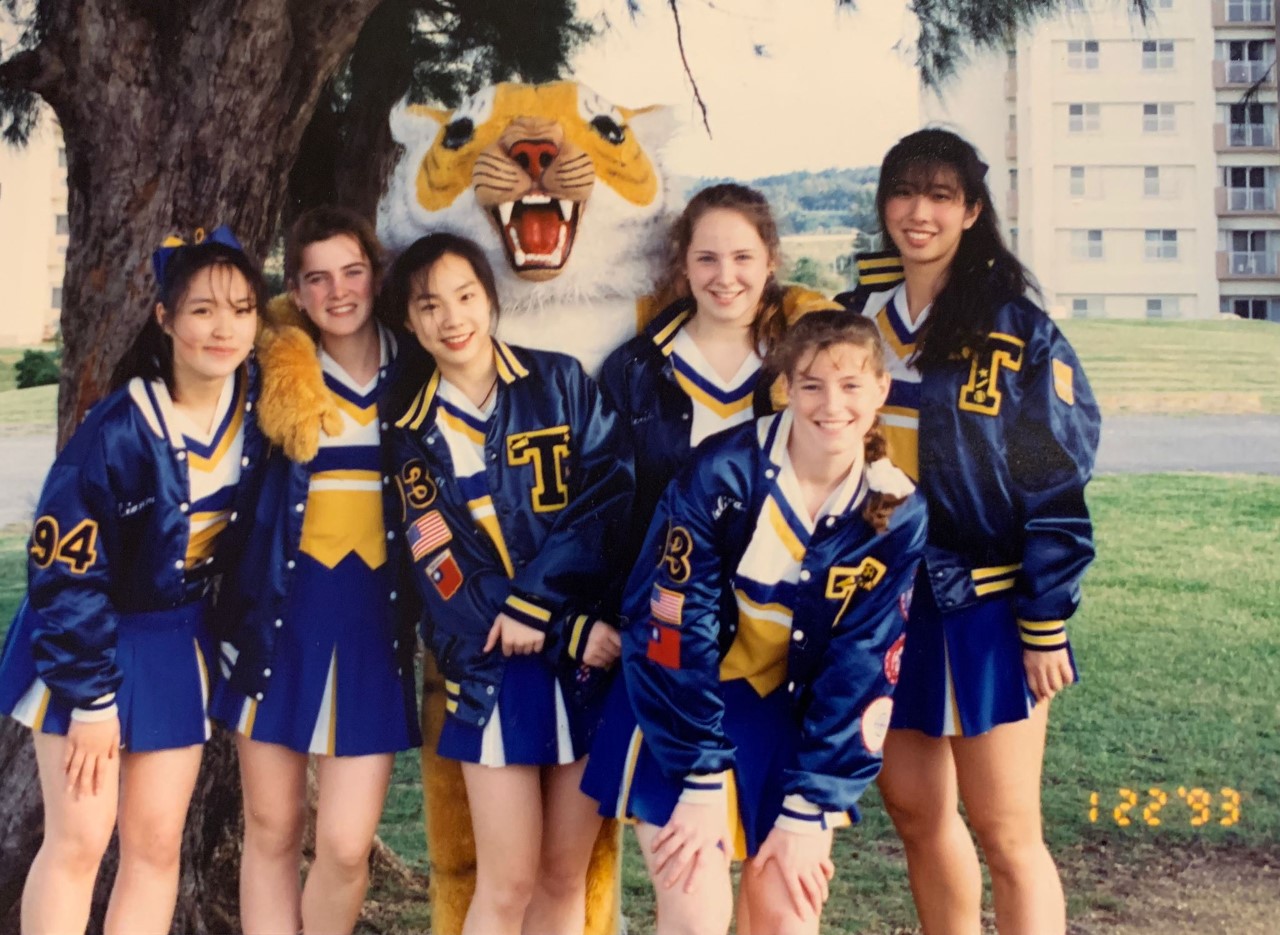 Reflections on Cheerleading
The TAS cheerleading program ended in the early 2000s. According to Ms. Kathy Cutler, it was most likely due to safety concerns. It was also not an IASAS-approved sport and did not align with the School's emphasis on particular seasons for athletic participation.
Though the cheerleading program is no longer running at TAS, alumni remember their time here well and cherish the friendships they made along the way.
Bernadette was only at TAS for a few years, but held onto the connections made here. "I made many good friends in my cheerleading team, one of [whom] lives close to me today. We get together a few times every year with other TAS classmates, still to this day," Bernadette said.
Winnie agreed. "Cheerleading was a mixed group. You were able to interact with people from different backgrounds. In my time, Asian students were in the minority [in the student body]. The majority were white students or families of international diplomats." She says that cheerleading helped to bridge this racial divide in her time at school.
Samantha and Christina also fondly remember their time here. "Both my brother and I attended TAS. It is by far one of the most significant experiences in my life that has shaped who I am today," reflected Samantha. "The DNA of the school is so embedded in who I've become today. We learned to work hard and play hard, focus on becoming very well-rounded kids and continue to serve our community when we can," Christina said.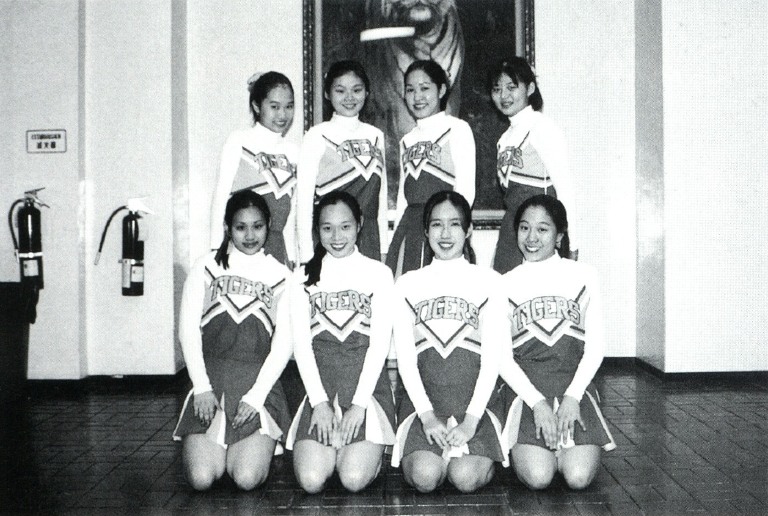 Leave a Comment
About the Contributor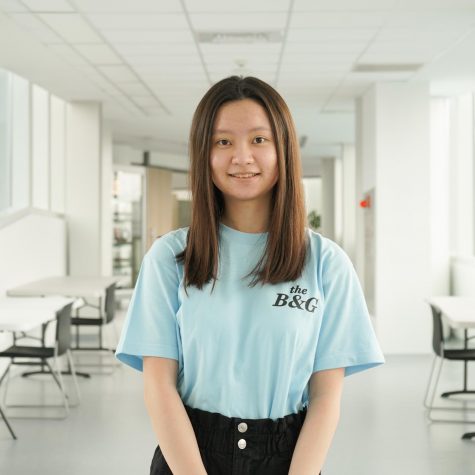 Sharon L. ('22), Managing Editor + News/Sports Section Editor
Sharon is a senior at Taipei American School and the Managing Editor and News/Sports Section Editor for The Blue & Gold. She enjoys reading fantasy...