Caitlin F. ('24) wins Best New Performer in the 2021 Golden Horse Awards for her role in "American Girl"
TAS sophomore Caitlin F. ('24) recently starred as the character Fen in the movie "American Girl" and won Best New Performer in the 2021 Golden Horse Awards. The movie was nominated for seven awards in total, and also won Best New Director and Best Cinematography.
"American Girl" tells the story of 13-year-old Fen who moves back to Taiwan from Los Angeles after her mother was diagnosed with breast cancer. The movie takes place during the SARS outbreak in 2003, and highlights the family's struggles with readjusting to Taiwanese life.
The character Fen was Caitlin's first movie role. "I joined a couple of musicals in middle school before American Girl, and I have always enjoyed performing whether it was singing, dancing or acting," Caitlin said. "My mom saw the audition opportunity on her facebook and encouraged me to audition."
Caitlin's favorite part about acting in the movie was meeting and forming bonds with the other actors and the production crew. Throughout the process, she has learned many filming techniques and also acquired various new experiences.
"I attended horseback riding lessons before the shoot [for American Girl] as my character was set to ride the horse in the film," Caitlin said. "Although we didn't end up with that exact idea, I was able to learn something new that I usually wouldn't be able to."
Although the process was very rewarding, shooting the film was also time-consuming. "The most challenging part of the process was probably the long hours of filming each day while also having to catch up with schoolwork," Caitlin said.
Despite that, she feels very grateful for the experience, and recalls being very surprised and thankful when the award results were announced. "Without everyone's hard work, especially the American Girl family and crew, I wouldn't have been able to receive this award," she said.
When the movie was released in theaters on Dec. 3, many of Caitlin's friends and classmates went to support her, and were very touched and impressed by Caitlin's performance.
"This movie made me feel emotional mainly because it is very realistic and it talked about family problems as well as the struggle of adapting to a new environment," Ashley C. ('24) said. "I am very proud of Caitlin's performance and I can see that she was really into her role. I can't wait to see her in other movies or projects."
"I felt really captured watching [the movie], and I cried a lot watching Caitlin act because I saw how vulnerable she had to be and how realistic her acting was. I knew she was really good but her acting in the movie blew my mind," Michelle Y. ('24) said.
As for Caitlin, she looks forward to acting in other projects, and plans to audition for more roles in the future. "I want to try out many different types of characters and movie genres," she said.
Leave a Comment
About the Contributor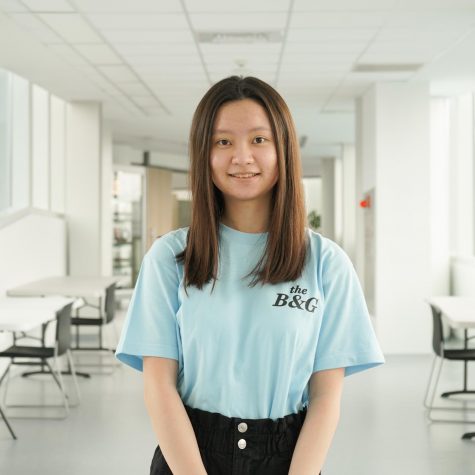 Sharon L. ('22), Managing Editor + News/Sports Section Editor
Sharon is a senior at Taipei American School and the Managing Editor and News/Sports Section Editor for The Blue & Gold. She enjoys reading fantasy...