From Christmas parties to reading initiatives, The Archivists are building a lively community in the library
The Archivists is a new student group created by Ms. Cassy Lee, one of the new upper school librarians at Taipei American School (TAS) this school year. Inspired by the library advisory committee from her previous school, Ms. Lee gathered a group of students who were all passionate about reading so they could give input on improvements for the library.  The aim is to make the library as inviting and welcoming for students as possible. 
"For me, it's very important to give students voice and choice in the library and to make it their space, so making this student group was one of my first priorities when coming here," Ms. Lee said. 
According to Alexia V. ('22) and Jonathan C. ('23), the student leaders of The Archivists, members of the student group are in charge of a process called "weeding books."
"Since there is a downstairs library, what we do is we take books that haven't been checked out or are outdated and we replace them with books that students are interested in, so that students can have more of a selection to read from," Alexia said. 
Other than organizing books, The Archivists give suggestions on what resources and books the library should purchase. They also organize fun activities in the library to celebrate different festivals and holidays. For example, they decorated the library during Christmas, Halloween and Chinese New Year and hosted book exchanges and fun parties. Additionally, The Archivists hosted the author's visit with Abigail Hing Wen. 
"We're trying to build a community of people who love books, or just enjoy the atmosphere in the library," Jonathan said. "We are also trying to reestablish the culture of reading at TAS."
The team is currently working on a reading initiative called the Valentine's Book Match, which will be ongoing from Feb. 14 to 18. Participants can submit a Google form with their book preferences, and they will be matched with book recommendations.
Additionally, students can submit book reviews using this submission form (also found on the USIC website), and they will be posted on the TAS USIC Instagram page (@tas_usic). 
The Archivists team encourages all interested students to stop by during their weekly Monday flex meetings. "Everyone is always welcome, and we would definitely love more people to show up and give input," Ms. Lee said. "It's not only a planning and advisory group, but a community, so we definitely want to have a place where people feel welcome and like they belong."
Leave a Comment
About the Contributor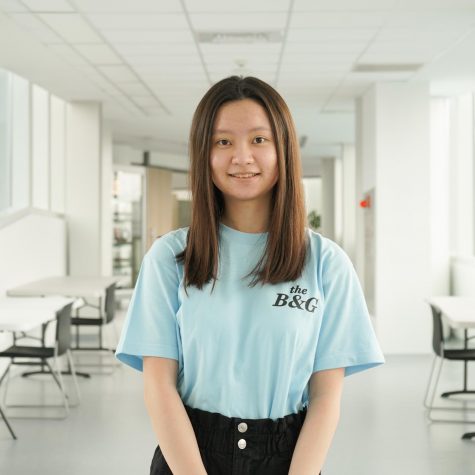 Sharon L. ('22), Managing Editor + News/Sports Section Editor
Sharon is a senior at Taipei American School and the Managing Editor and News/Sports Section Editor for The Blue & Gold. She enjoys reading fantasy...