Season 2 sports cut short due to COVID-19 policies
Season 2 athletes faced various challenges as the season neared its end. After students received the first dose of the Pfizer-BioNTech vaccine at Taipei American School (TAS) on Oct. 1, the second dose of vaccines was administered on Jan. 14, 2022. A month before the second dose of vaccines were administered at TAS, season 2 athletes were notified that those who received their second doses at TAS would have to end the season early as a response to government guidance and data regarding the side effects of the COVID-19 vaccine. 
Later, on Jan. 19, 2022, the Ministry of Education (MOE) announced that sports teams could no longer host interscholastic competitions. Different sports teams were affected by these policies in different ways. 
According to Ms. Kawamoto (she/her), the athletics director at TAS, the boys tennis team was severely impacted by the vaccine policy. After vaccinations occurred on Jan. 14, 2022, only three players were eligible to play on the varsity and JV boys tennis teams. 
However, not all teams were affected as severely by the vaccine policy. 
Ms. Kawamoto, who is also the head coach of the varsity girls basketball team, said that the girls team was not severely affected. "Many of our girls were able to receive their vaccines during the summer when they went home or received their vaccines during winter break, which allowed them to rest for two weeks before returning to competition as the government suggested," Ms. Kawamoto said. 
According to Mr. Mike Corsini, (he/him), the assistant athletics director and head coach of the JV boys basketball team at TAS, there was only one player on the team that was affected by the vaccine policy. The other players were either able to receive their vaccine over the break or delayed it until after the season. 
The MOE policy that canceled all interscholastic competition was more disruptive.
Boys' Tennis Co-Captain Luke L.  ('22, he/him) did not hide his disappointment when he saw the email from Coaches Ricky Lee and Mae O'Malley giving the team the most updated policy outlining that the boys' tennis season could not end with a finish they originally anticipated it to be. 
"In addition to not having IASAS and having our season cut short, it was also sad that we couldn't go through with a tournament that we originally planned on going to as our replacement of IASAS this season down in Southern Taiwan," Luke said. 
However, the team was able to play outside competition on senior night, which was the last day of the season for the boys' tennis team. According to Luke, senior night occurred on Jan. 13 and was before the updated MOE policy. Despite these challenges, Luke was proud of the team's improvements over the course of the season. 
The JV boys basketball team was also unable to complete their season as expected. Initially, the team had planned two consecutive weeks with two games each, one on Thursday and one on Saturday. The team played one week of two games after winter break, but those ended up being their final games due to the new policy, according to Mr. Corsini. "We still did have a 'JV Weekend' because we were able to play multiple games [that first week back]," he said.
Nevertheless, not all teams had their seasons greatly affected by the new MOE restriction. The Varsity Girls Touch Rugby team was impacted in a much lighter way. Many of the changes made to their practice regiments and plans this season came before these updates and was made as a result of the pandemic. 
"Since we didn't have competition, we combined the JV and varsity teams. We also focused a lot more on personal technique and skill development instead of team tactics," said co head-coach Mr. Anthony Joe (he/him). "We typically don't get much outside competition anyway, so we weren't affected that much. One of our original plans was to have a faculty scrimmage, which luckily can still happen because it is not competition with outside schools. However, our game with Taipei Touch was still impacted. Due to the new vaccination policies not everyone on Taipei Touch could come in, but I would say we stuck pretty close to our original plan," said Mr. Joe. 
Although the season was cut short for many season 2 teams, the hard work that the athletes and coaches put in along with the support of friends and family still made this season a memorable experience.
Leave a Comment
About the Contributor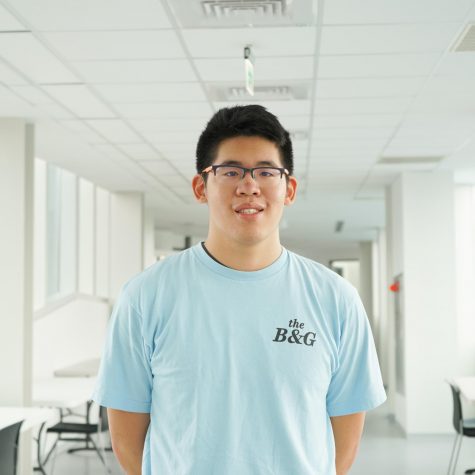 James H. ('22), Staff Writer
As a senior at Taipei American School, James has had a prolonged passion for collecting information via the newspaper. He enjoys listening to music (usually...