Abigail Hing Wen, author of bestselling novel "Loveboat, Taipei"
Abigail Hing Wen, the New York Times bestselling author of "Loveboat, Taipei", visited Taipei American School on Jan. 21 to share her writing journey with the students. 
"Loveboat, Taipei" is a young adult novel that follows the story of Ever Wong, an 18-year-old Chinese American girl who is forced to attend a summer program in Taiwan to learn Chinese language and culture. Despite her passion for dancing, she represses it to meet her immigrant parents' expectations for her to become a doctor. While attending the camp, she explores the Taiwanese culture, her identity and love. 
Ever reflects Wen's own experiences of growing up in a multicultural environment. Born to immigrant parents, Wen grew up in Ohio, where Asian Americans were a small minority. She was the only Asian American in her class besides a half-Korean girl. "I felt like I was a transplant in that community. I grew up very aware that I was not like everyone else," she said. "I was ashamed of being Asian and different. I wanted to be like my classmates." 
Wen avoided further embarrassment by refraining from bringing any foreign foods like dumplings for lunch to school and from letting others hear her parents' heavy accent. These identity struggles over the years eventually gave rise to the story of a girl who reconciles herself with her cross-cultural identity. 
At first, Wen looked not to writing, but to government and law to address racial injustice issues, which she contended with during her entire childhood and during her visits to underdeveloped Asian countries. She resolved to be a social change agent, receiving influence from her activist parents, who would advocate on behalf of immigrant families and children in their community. She left Ohio to study government and international relations at Harvard University, then followed the road to becoming a law professor, working on the Senate Judiciary Committee and attending Columbia Law School. 
When it came the time to apply for professorships, however, Wen could not bring herself to write the required law article. "I was going to write this really boring article, [which] five people were going to read… and it [was] not going to move the needle for anything," she realized then. 
Instead, encouraged by her husband, she chose to put onto paper the fantasy novel which lingered in her head for a long time. Unlike her law article, this novel "just came pouring out of [her]," she said. It captivated her readers — her friends at the time — like none of her law articles could. 
To pursue her newfound passion, Wen became a lawyer at a venture capital firm in Silicon Valley, which allowed her more time and space to write as it was a less demanding job relative to a law professorship. 
Several of her novels were rejected by publishers, and it was not until her Master of Fine Arts program at Vermont College of Fine Arts that she felt empowered to write a novel that sincerely reflected her personal experiences: one with an Asian American girl as the main character. 
"That was a really big moment for me," she said. "Because for many, many years, I didn't know that an Asian American girl could be the main character." The authors of the books she read were not Asian American females, let alone their protagonists. "The stories that I experienced in my life were nothing like the stories that I read in books, so I just didn't think these stories were supposed to be in books," she said. 
Filling this gap in representation offered a glimpse into the untold experiences of a population defined by racism and confusion. "It was incredibly rewarding to have spoken to the world," she said. 
Wen has been amplifying her voice ever since. She recently released "Loveboat Reunion," the highly anticipated sequel of "Loveboat, Taipei." She is also serving as the executive producer of her bestseller's film adaptation by ACE Entertainment, which was behind the Netflix hit "To All the Boys I've Loved Before," adapted from Jenny Han's novel series. 
The company's authentic representation of Asian American characters in their precedent work drew Wen. Her own film stars Asian American actors Ross Butler and Ashley Liao as the main characters. "It matters so much to have an Asian American director and to have Asian Americans play each of the characters on screen," she said. 
While she has also been a thought leader and speaker in the tech industry, promoting fairness and ethical considerations in artificial intelligence, politics and business are no longer her main avenues to address diversity and justice issues. 
"I have no patience at all for wasting time on anything that doesn't feel meaningful to me…that's probably what drives me," she said, as she quoted her favorite quote from "Lord of the Rings": "All we have to decide is what to do with the time that is given us."
With the time given to her, she intends to make an impact with her power of storytelling.
Leave a Comment
About the Contributor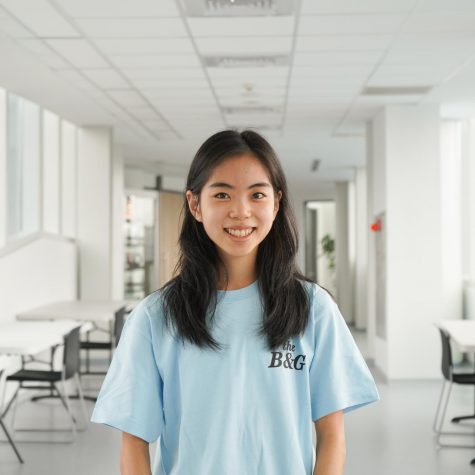 Lana L. ('22), Editor-in-Chief
Lana is the editor-in-chief of the Blue and Gold. She loves to indulge in books and romcoms. She also enjoys hiking and running outdoors. Economic inequality...