How do seniors deal with senioritis?
Feeling constantly tired and wanting to fall asleep in class? Feeling a lack of motivation to do homework? Flunking tests left and right? Well, you might just have a case of senioritis. Senioritis is an ebbing of motivation and effort by school seniors as evidenced by tardiness, absences and lower grades. Although not a seriously dreadful issue, it is still quite damaging for seniors' final semester performance. Three seniors, Miles H. ('22), Vincent C. ('22), and Alex T. ('22), discuss their own experiences with senioritis.
Miles believes that the main cause of senioritis is the lack of motivation. Most students during their senior year have already completed their college applications and received letters of acceptance. To combat this mindset, Miles suggests that students should try and find hobbies that motivate them, such as extracurricular activities or clubs. "If you don't find something that motivates you, you end up finding things boring and not finding the point in doing anything anymore," Miles said.
Alex first noticed the detrimental effects of senioritis when his grades began dropping due to a lack of focus in school. He often felt pressured to complete his assignments to the utmost perfection which caused great mental strain for him. However, Alex also recounts, "Many of my teachers tell me to stay strong." This advice helped support him through his final semester.
Vincent recalls his past mentor, a camp counselor from a leadership camp in Colorado,  and admires his experience and attitude toward senioritis. "I won't say I love studying, but because of this man, I give my best to what I dedicate to," Vincent said. Vincent especially admired his ability to recognize his own faults and worked with dedication to overcome them. Vincent suggested that students should follow his example of dedication when trying to overcome senioritis, enduring hardship to triumph over a flaw.
Through these seniors' experiences, setting personal goals to maintain motivation is central to combating senioritis. Seniors, keep your determination to overcome obstacles and defeat your flaws. Otherwise, the lack of motivation and determination could cost a senior student a good final semester grade. It is always good to turn to a teacher for support. There is no shame in admitting to having senioritis; after all, senioritis is a common phenomenon among many senior students. No matter what the case may be, do not let yourself get bogged down by this affliction — struggle to overcome this weakness, and you shall succeed.
Leave a Comment
About the Contributor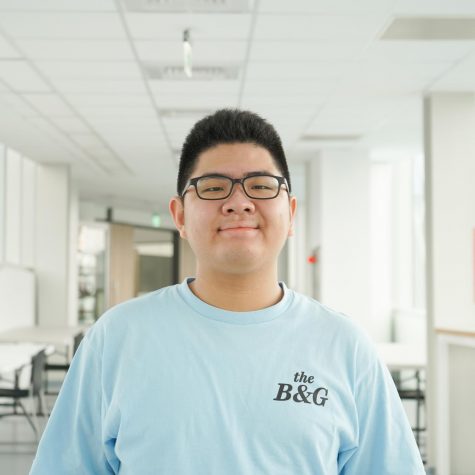 Aaron S. ('22), Staff Writer
Aaron is a senior at Taipei American School. This is his first year with The Blue & Gold. He has lived in Taiwan for most of his life and has been...