Turning Red: an authentic coming-of-age film that celebrates teenage girlhood
Rating: ★★★★☆
"Turning Red" is a coming-of-age animated film about a 13-year-old Chinese Canadian girl, Meilin Lee, who turns into a giant red panda when she gets too excited. This film celebrates teenage girlhood and embraces the chaos of adolescence.
Directed by Domee Shi, and starring Rosalie Chiang, Maitreyi Ramakrishnan, Sandra Oh, and more, this movie is the first Pixar film to be solely directed by a woman and to have a predominantly Asian cast. 
Set in Toronto, Canada, the movie features diverse Toronto landmarks and geography through impressive animations. It also contains a detailed portrayal of the Chinese-Canadian community to which Mei belongs. 
With many humorous and heartwarming scenes, the film is appealing to both children and adults and contains many important lessons especially for teenage audiences. I particularly enjoyed how the movie portrays adolescence in an authentic and relatable way, and does not shy away from the struggles that teenagers often face in the process of finding their identity. Intense emotions, feelings of insecurity, fear of standing out, and pressures from both family and peers are some of the topics covered in this film.
The movie encourages teenagers to learn to express themselves fully and to break away from societal standards. It also depicts the complexity of intergenerational relationships in a lighthearted but realistic way, and can help parents approach their children with more compassion and understanding.
However, I was a bit disappointed by the movie's portrayal of Chinese culture, as it overemphasizes many stereotypes. For example, the "tiger-mom" and the passive father, the superstitious grandparents, and the Chinese temples. Although these elements help set the cultural atmosphere, they come across as over-the-top in certain instances. 
Despite that, Turning Red has wonderful animations that mix Western and Eastern art styles and is overall an enjoyable and charming film for families to watch together.
Leave a Comment
About the Contributor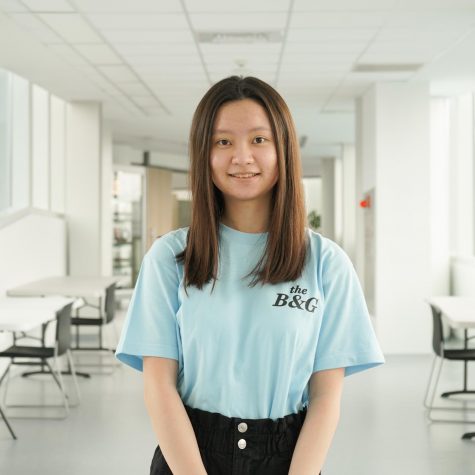 Sharon L. ('22), Managing Editor + News/Sports Section Editor
Sharon is a senior at Taipei American School and the Managing Editor and News/Sports Section Editor for The Blue & Gold. She enjoys reading fantasy...