TAS Teachers that do Photography
Teachers are more than educational instructors at Taipei American School (TAS),  — they are pursuants of their own hobbies too. TAS teachers Mr. Dustin Rhoades, Mr. Lee Trumpore and Mr. Steven Collins share their experiences as photographers. 
Mr. Rhoades – Second-grade Teacher 
Mr. Dustin Rhoades, a second-grade teacher, has been taking photos since 2013. He first became interested in photography due to curiosity as he wanted to explore deeper on what things looked like up close. 
Inspired by social media platforms such as Instagram, Mr. Rhoades sought to improve his skills as a photographer. Mr. Rhoades immersed himself in taking photos of insects at Camp Taiwan, a student trip held annually prior to the pandemic. "I like to share a picture of a bug with somebody," Mr. Rhoades said. "It just kind of makes people see the world a little differently."
Mr. Rhoades advises those who wish to pursue photography to work with composition first. He believes that composition is the foundation of photography and is a crucial element for beginners to explore. Additionally, Mr. Rhoades believes that emphasizing motivation is central to self-reflection in photography. "Check your motivation," he said. "Ask yourself why are you doing it?" 
Mr. Trumpore – MS English and Study Skills Teacher
Mr. Lee Trumpore is a middle school English and study skills teacher and has been doing photography for a decade now. Mr. Trumpore was initially inspired by the iPhones' camera functions and his photographer friends.
Through the years, Mr. Trumpore experimented with his creative style by taking pictures with his friends. "I got more into photography as a way to reconnect with all my friends," Mr. Trumpore said. 
To Mr. Trumpore, photography is a fun hobby and a way to connect with the people around him. He enjoys being creative and the idea of making something for people to admire. Additionally, Mr. Trumpore often takes inspiration from other photographers. "I want to know, how do they do that? I want to take [photos] like that," Mr. Trumpore said.
For those interested in photography, Mr. Tumpore recommends starting off with a phone and experimenting with different functions and editing styles. "If you can take a good picture with [with an iPhone], you can take a good picture with a regular camera," Mr. Trumpore said.
Mr. Collins – Second-grade Teacher 
Mr. Steven Collins, a second-grade teacher, was first handed a camera by his father when he was just seven years old. Inspired by his father's love for photography, Mr. Collins has been taking pictures for 45 years. 
Throughout his years of photography, what attracted Mr. Collins the most was the urban landscape. 
"I love a beautiful landscape," Mr. Collins said. "It's very alive and has a lot of character in it." 
Mr. Collins enjoys being able to communicate and express a vision through photography. He believes that it is a unique form of communication — a photo can tell a story. "There's nothing like a really good photograph to bring back all the details of a specific memory," Mr. Collins said. 
Mr. Collins advises those interested in photography to always prioritize quality."100 photographs of just random shots doesn't say as much as one very thoughtful image," Mr. Collins said, "One very thoughtful image can change the world."
Leave a Comment
About the Contributor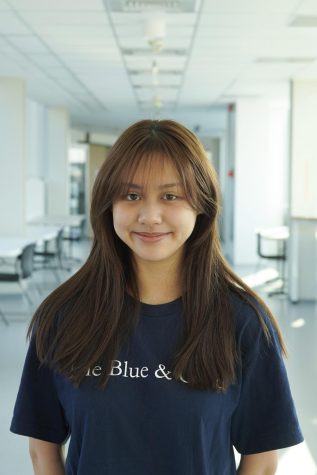 Abby C. ('24), Director of Social Media
Abby is the social media director of The Blue & Gold. She has lived in Taiwan most of her life and enjoys traveling, music, reading and playing with...