TAS community reflects on awards cancellation
The Taipei American School (TAS) administration decided last year to cancel the annual awards ceremony, where upper school students gather to watch their peers receive academic awards, leaving the TAS community wondering how individual students and groups would be recognized for their achievements. Awards that were canceled include academic, music, arts and political science awards. The only awards that currently remain are athletic awards, which include Most Valuable Player (MVP) awards; the administration is also currently modifying the Hall of Fame. 
Upper school principal Mr. Lowman (he/him) states that the COVID-19 pandemic has played an essential role in the decision of award cancellation as the administration deemed it unnecessary when it came to recognizing student achievements. "Like many things, COVID-19 made us hit pause on things which allowed us to reflect and ask, 'Why are we really doing [award ceremonies]?'" he said. 
The administration's decision to cancel the annual award ceremony came after the realization that the event did not align with the community's values. "[Having award ceremonies] tells a bunch of other people who work and who are good students that 'you're good, but you're obviously not good enough.' And so how is that building a positive community?" Mr. Lowman said. "It wasn't something that meant a great deal to the student body."
Interscholastic Association of Southeast Asian Schools (IASAS) cross country and badminton athlete Guan C. ('23, he/him) said that although canceling awards would create a more supportive environment where students would feel less pressured, there are other methods to acknowledge student achievements. "I understand that the awards may have fostered a win-lose environment, but I do think it's an important way to recognize student excellence," Guan said. "Perhaps [the administration can] expand the number of awards or students receiving each award instead of canceling it entirely." 
IASAS pianist and vocalist Kimi L. ('23, she/her) believes that the reason for canceling the awards is not well justified since the biggest loophole in the administration's argument is their decision to keep the TAS Athletics Hall of Fame. "The school decided that the athlete's individual success is worth celebrating through a place in the Hall of Fame, which is well deserved, but then they subsequently cancel all other awards celebrating artists, musicians and scholars. What about [those] students?" she said. 
Despite academic awards being canceled, Mr. Lowman believes that MVP awards should still be handed out as it acknowledges the achievements of a whole sports team. "What's nice is that the MVP award is given in the context of the team and that coach then recognizes people in that space," he said. "It's relevant to them: They're a team and they know each other. It's recognized there." 
He also notes that the administration is modifying the Hall of Fame. "We're looking at how to do [Hall of Fame] in the future in a way that is actually more in line with what other schools do," he said.
The TAS community is currently coming up with more meaningful and authentic methods for groups to celebrate their success. "We have talked to club leaders of other groups and activities about having end-of-year club events," Mr. Lowman said. "If you want to recognize students individually at that time, that's great, because everyone who's there understands the context of it, and you can do it in a very personal way." 
"Sometimes a 'congratulations' from faculties they know can mean more than a bulletin board," Guan said. "[The TAS administration] could try asking teachers to email or congratulate the students' achievements in person." 
Meanwhile, Kimi believes that if the administration wanted to cancel awards to minimize competition, they should remove all categories. "I can understand the rationale behind canceling awards in fear of student competition, but canceling all but one award category is hypocritical," she said. "You either cancel all or keep all." 
Leave a Comment
About the Contributor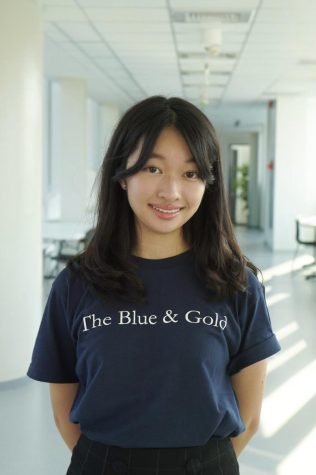 Amber W. ('23), Co-Editor-in-Chief
Amber is the co-editor-in-chief of The Blue & Gold. She has lived in Taiwan her entire life and has been at TAS since first grade. When she is not...