Taking action this summer: Students create Clothes4Roe to make an impact
Taipei American School (TAS) students started Clothes4Roe, an initiative to raise money to help protect access to abortion in post-Roe America, following the U.S. Supreme Court decision to overturn Roe v. Wade this summer.
Clothes4Roe hopes to inform students of the issue, spread accurate information and raise money through clothing drives to help people seeking abortion access in the U.S.
In 1973, the U.S. Supreme Court recognized abortion as an implied constitutional right through the ruling of
Roe v. Wade. This decision was overruled in Dobbs v. Jackson this summer, where the majority decision made abortion illegal in some states, ignoring decades of precedent. Because of this new ruling, many states have made or are planning to make abortion illegal, not even making exceptions for cases of rape or incest. 
With greater danger and difficulty in accessing abortions, these new laws strip people of bodily autonomy. Low income communities and marginalized peoples are also disproportionately at risk of facing severe legal consequences if they attempt to abort a fetus.
Considering these factors, Sonia F. ('23), Isabel L. ('23) and Chloe H. ('24) all decided to take action by raising money through selling clothes to donate to the Brigid Alliance, which supports post-Roe access to abortion.
"We thought clothes would be the easiest and most sustainable way," Sonia said.
To attract attention to their campaign, they worked to plan everything within a week and digitize it to inform other students of their initiative, setting up platforms on Instagram.
Despite the efficiency of preparing for the clothes drive, there were still challenges that the students encountered. One major challenge was raising as much money as possible since selling clothes to thrift stores typically begins at low price points. They were able to make the decision to separate clothing to sell through Instagram and through a local Taiwanese thrift store, 2nd Street, to maximize profits.
Amidst challenges, the students involved still felt it was a gratifying experience, especially seeing the many people at the clothing drive supporting the cause.
"There were volunteers that came from other international schools and they traveled far distances," Sonia said. "It's also nice to know a lot of people care about the same thing that I do."
The students involved hope that people will learn from their experiences. Taking action towards certain issues is not as scary as it seems, they said.
"I think Clothes4Roe shows the power of youth and our ability to instantly mobilize as a community," Isabel said. "I'm proud of what we've achieved and excited for the future."
This year, Sonia, Isabel and Chloe hope to collaborate with RiseUp, a TAS club that supports the feminist cause, and other clubs to organize another Clothes4Roe sale and make it an annual event.
"I think it's important it's not just a summer thing, even if people aren't talking about it," Sonia said. "I think the entire year I want to still be able to continue supporting abortion centers and access to abortion."
Leave a Comment
About the Contributor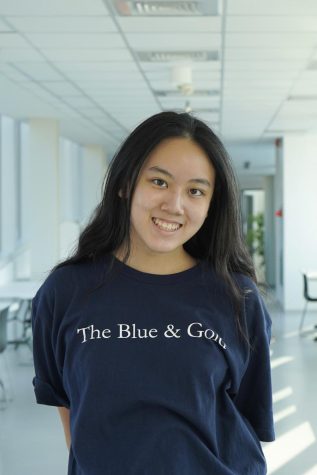 Ariel L. ('23), Print Managing Editor
Ariel is the Blue & Gold's Managing Editor of Print. She has lived in Taiwan for most of her life and spends her free time reading, sewing and watching...