TAS seniors should be able to park on campus during weekends
While it is common for many upper school students with driver's licenses to drive themselves to school in the U.S., most Taipei American School (TAS) students are not seen searching for parking spaces on campus, leading many to question why TAS students are less likely to drive to school.
The current policy indicates that seniors who are 18 and have passed their driving test are allowed to operate a vehicle on school grounds; however, like parents dropping their children off at school, they cannot park at school during the school days, which makes driving to school very inconvenient. "Students [driving to school] need just make it clear [that] it is for drop off and pickup, and not for parking," Mr. Ming-Der Huang (he/him), the security manager, said.
The parking restrictions were established due to the lack of parking spots on campus. The school had considered procuring more parking spots but was not able to as school grounds are too small. "There are not many spots [in the basement], with a long waiting list for spots when they open," Mr. Larry Kraut (he/him), the chief operating officer, said. "As for the West Side Campus, we have a few parking spots and they're also on a sign up basis for employees, with a long wait list."
The school's decision to disallow parking also stems from the potential accidents caused by increased traffic. "It's understandable because there's not enough parking spaces for everyone," Connie L. ('22, she/her), a TAS alumnus who got her driver's license in her senior year at TAS, said. "I think it's good that students aren't allowed to drive on campus because it can mitigate accidents."
However, the administration should allow students to park on campus during weekends when students need to stay at school for longer periods of time as it is more difficult to access school transportation. Although many students are required to come on campus for certain activities, they cannot take the school bus on weekends as it only operates on the weekdays.
Because the bus parking lot at school is vacant during the weekends, the administration can consider opening the spots to students who wish to drive to school during special events for convenience. Students would not have to scour the streets for a public parking spot or take public transportation that would require more time to travel to campus.
While providing more spaces in the bus parking lot for students to park on the weekends would greatly benefit student drivers, the school should still maintain a policy with a limit on parking times. "It is important to limit the parking times to school days or when students need to come on campus for events so the school can use the space more efficiently," Claire C. ('23, she/her), a current student driver, said.
Fundamentally, although there are not enough spaces for car parking on school days, the administration should allow students to park on campus for special occasions and events on the weekends.
Leave a Comment
About the Contributor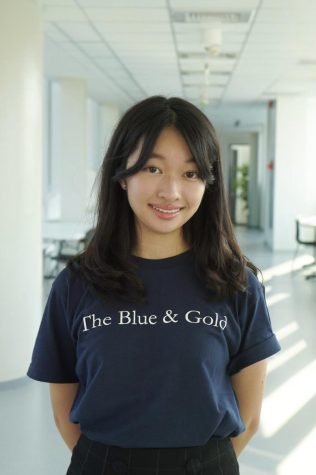 Amber W. ('23), Co-Editor-in-Chief
Amber is the co-editor-in-chief of The Blue & Gold. She has lived in Taiwan her entire life and has been at TAS since first grade. When she is not...