Food prices at school increase admist global inflation
Food items' prices at Taipei American School (TAS) have increased this school year. Many items have been increased by NT$10 to NT$20. The popular complete meal from the serving line has been increased from NT$105 to NT$115.
Mr. Shawn O'Neal, the food service business manager, partially attributes the price increases to global inflation. According to Mr. O'Neal, the trend of inflation has been more than apparent even before the COVID-19 pandemic.
"Everything costs more," Mr. O'Neal said. "Our prices are set such that we are able to cover our expenses. That's the main thing."
An across-the-board price increase in which prices for all TAS food items are raised explains this year's price raises. "We haven't actually done an across-the-board price increase for almost 15 years," Mr. O'Neal said. "The last time we did was actually back in 2008."
Across-the-board price increases were implemented at the beginning of the school year. Before being implemented, the increase had to be approved by a series of supervisors. Mr. O'Neal came up with the initial proposal, which was then reviewed by the Chief Operating Officer Mr. Larry Kraut and the Controller Ms. Cathy Hsu.
After approval from Mr. Kraut and Ms. Hsu, who are responsible for general financial oversight at TAS, the proposal was then forwarded to the school board for authorization.
In general, these price increases are done to ensure that the food service department at TAS can cover all of its expenses. "The school ultimately decides how often prices are raised … This [across-the-board price increase] was definitely done to counter the effects of increasing costs," Mr. O'Neal said.
By covering expenses, Mr. O'Neal and his team strive to make the dining experience at TAS as enjoyable as possible for the TAS community.
"We try to do things so that most people will be able to find something in the cafeteria or snack bar that appeals to them, so they leave TAS with a positive impression," Mr. O'Neal said.
Opinions about these price increases vary among students, with some feeling discontent as they view price increases as unnecessary considering the school's tuition fees.
"Personally, I do not think that [these price increases] are justified since we already pay so much for school tuition," Katrina F. ('24, she/her) said.
Other students feel that the price increases at TAS are practical and understandable. "I think, to some extent, [increased prices are] justified because of inflation of products all over the world," Kaitlyn C. ('24, she/her) said.
Leave a Comment
About the Contributor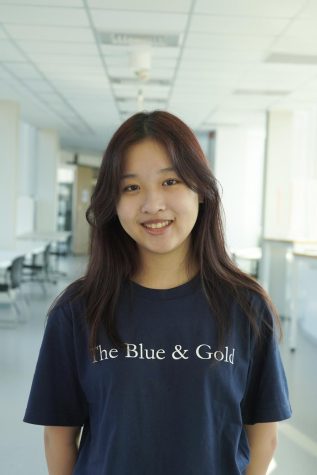 Katherine M. ('24), Staff Writer
Katherine is a staff writer for The Blue and Gold. This year, she is a returning student after moving back from New Jersey. In her free time, she enjoys...