Dr. Liz Gale: TAS's new Deputy Head of School
Dr. Liz Gale (she/her) is the new Deputy Head of School at Taipei American School (TAS) this school year. Prior to coming to Taiwan, Dr. Gale worked at several international schools in China, spending 11 years at the American International School of Guangzhou, six years at Shanghai Community International School and a year at a startup school in Beijing.
Dr. Gale was attracted to TAS because of the school's neverending commitment to learning. Even while working overseas, Dr. Gale was well-informed about TAS values and the school's work.
"Having lived and worked within the educational sector in Asia for the past 20 years, TAS has always been a school that I've kept a close eye on in terms of the implementation of innovative and forward-thinking educational practices," Dr. Gale said. "There have been some fantastic program developments and initiatives that have occurred at TAS over the years that are in alignment with my educational beliefs and values, and I'm excited to continue to build upon these initiatives to ensure TAS remains a world-class school of excellence."
As deputy head of school, Dr. Gale is an important member of the central leadership team at TAS. "She supports me and collaborates closely with the Admissions Director, the [Information Technology] Director and with the three principals, the Dean of Teaching and Learning and the Director of Inclusion and Wellbeing in overseeing academic leadership and our school's strategic goals," Head of School Dr. Grace Cheng Dodge (she/her) said.
Dr. Gale has worked with Ms. Amanda Jacob, the dean of teaching and learning, leading professional development days (PD days) to uphold and carry out TAS's mission of supporting students in their education. In addition, they have visited lower school classrooms, held parent events and had discussions with upper school students to help further define and develop the TAS mission.
"We have been doing a lot of work over the last two and a half months to help make sure our community, students, faculty and parents understand our mission," Ms. Jacob said. "We want to help all learners have an enduring commitment to lifelong learning through a broad American-based education."
With the help of a supportive community, Dr. Gale has been adjusting well to TAS. "It's been one of the smoothest transitions I've ever made," Dr. Gale said. "The whole TAS community has been extremely friendly, supportive, welcoming and helpful. My family and I are grateful to be here."
Leave a Comment
About the Contributor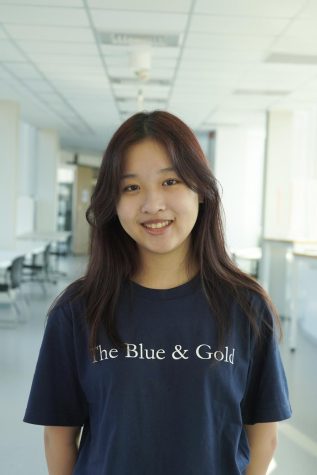 Katherine M. ('24), Staff Writer
Katherine is a staff writer for The Blue and Gold. This year, she is a returning student after moving back from New Jersey. In her free time, she enjoys...