Will H. ('24) embarks on his musical journey
Will H. ('24) is a rising pop artist, first gaining recognition in a Taiwanese idol survival show "Atom Boyz." After more than a year of hard competition, Will successfully finished the survival show and debuted in a five member boy group, AcQUA. 
The "Atom Boyz" idol survival show is designed with the concept of the solar system's eight planets. The show began with 80 participants all split into eight planets. Each planet had missions, su
ch as performances, to accomplish throughout the show. 
As the show progressed, participants were gradually eliminated based on their performances. For Will, the elimination process was not easy. 
"It was pretty intense and tiring, but fun at the same time," he said. 
After being selected from his planet group, Mercury, to perform, Will began long hours of dance practice and music lessons. He would arrive at the studio at 3 a.m. for makeup, then would have dance rehearsals and 12 hours of filming to around 3 or 4 a.m. the next day.
Will enjoyed being in the recording studios and learning skills, such as evoking emotions and singing fluidly, from professional teachers. 
Will's most memorable moment in the show was his first stage performance in front of judges and other competitors. Due to his inexperience with performing on stage, he underwent overwhelming emotions. 
"The first time was tough. I was fake smiling. I was blushing," he said. When interviewed by the show, Will explained how he was tearing up from the stress of his performance. "My first performance was definitely something that's going to stick with me forever," he said. 
Will's musical journey comes with challenges, such as struggling with confidence when speaking in front of cameras with everyone listening.
However, with encouragement from his friends and as Will adapted to the new environment, he eventually learned to feel comfortable when speaking in front of everyone. 
Will had to balance his show responsibilities along with his school work. Communication was crucial for balancing school during this time. According to Mr. Peter Hua, Will's math teacher, Will balances his school work well and completes his assignments in a timely manner.
After Will finished "Atom Boyz," music companies started scouting for the singers they wanted. Will, alongside four other members in Mercury, were selected and signed into a group with Catwalk, the largest modeling company in Taiwan. Thus, AcQUA was born. 
"[The members of AcQUA] are not competitors anymore," Will said. "We have to be more professional." 
AcQUA released its debut song called "AcQUArius" on Oct. 27, which currently has over 950,000 views on YouTube. The group is planning on producing a second song either this month or early next year. 
"Seeing his group go from competing in a television show, to getting signed and to releasing a single … was surreal because the person on the screen was this person next to me," Cedric L. ('24, he/him), a friend of Will, said. 
Ultimately, Will hopes that everyone can enjoy his performances and support his new group, but also respect him by giving him space and privacy. 
"We need some privacy… Sometimes you get overwhelmed when it's too much," Will said.
"I'm just so incredibly proud of Will and I can't wait for him to release an album," Cedric said. "No pressure though."
Leave a Comment
About the Contributor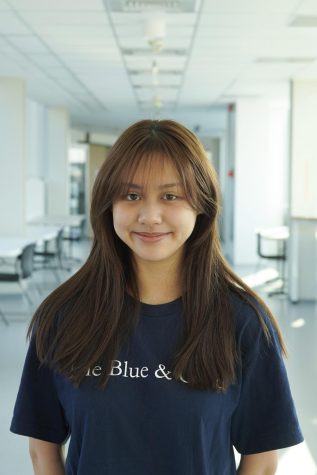 Abby C. ('24), Director of Social Media
Abby is the social media director of The Blue & Gold. She has lived in Taiwan most of her life and enjoys traveling, music, reading and playing with...