Frolic makes its return with 1920s Shanghai theme at the Grand Hotel
Frolic, the upper school winter formal, is making a comeback on Dec. 21. The upcoming event will be the first since 2019, which was when it was last hosted. 
Due to the COVID-19 pandemic, the formal was canceled in the past three years. There was an event held at the Taipei Children's Amusement Park in place of Frolic in 2020. Although events have been held to replace the dance, this is the first year that students will have a traditional Frolic. 
The upper school Student Government (StuGov) is in charge of planning the formal, where students get to dress up, have dinner, watch performances and dance at a designated hotel venue. 
The theme for this year will be Shanghai in the 1920s, and the dance will be held at the Taipei Grand Hotel. 
StuGov officers began to start focusing more on planning for Frolic after Field Day. "We first come up with a date, the theme and which hotel we're holding it at," said Erin S. ('23, she/her), a StuGov officer. "Most of the activities are similar to the years before so we get to use information from past years."
Planning for the event is a group process involving all members of the StuGov. After specific details such as the date, theme and venue are decided, the officers divide up jobs like ordering food, buying decorations and promoting it. Members of StuGov all participate as well, whether that be setting up and cleaning up on the day of the dance, helping sell tickets or making promotions beforehand. 
"It feels more like Frolic was put on pause, because things haven't changed much," Erin said. "If COVID increases, we'll have to change some stuff, but as for right now, we're just planning it as if it's a normal year."
Though the effects of COVID-19 have increasingly lightened over the past year, it still has some indirect impacts on Frolic this year. "We're a little worried that because there hasn't been a Frolic in the past two years, students may not be as excited about it," Erin said. 
However, students seem to look forward to attending the school event again. "I think even with COVID, it's fun to dress up and go with friends," Ocean T. ('25, she/her), a student planning to attend Frolic, said. Other students are just glad to have school events continue as normal. "I'm really excited for Frolic because the last dance I went to was Candlelight in middle school and that was really fun. I miss it," Shelby T. ('25, she/her) said.
View Comments(1)
About the Contributor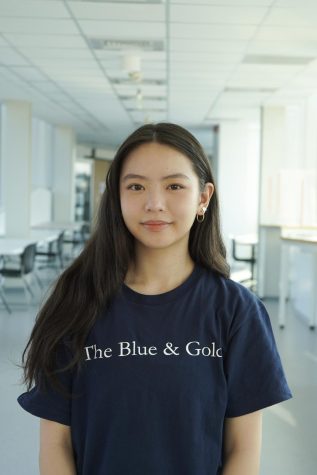 Erin W. ('25), Staff Writer
Erin is a staff writer in The Blue and Gold. She is a sophomore at TAS, and is excited to start Journalism to share writing pieces with the community that...