'Black Panther: Wakanda Forever' honors late Chadwick Boseman
Rating: 4/5
Between the first and second installments of the "Black Panther" series,  the most tragic and impactful change was the death of Chadwick Boseman, whose performance as King T'Challa/Black Panther had seemed to signal the arrival of a new start. Although many Marvel Cinematic Universe (MCU) movies currently focus on the complex plot of the multiverse, co-writer and director Ryan Coogler does not run from the grief caused by Boseman's death in "Black Panther: Wakanda Forever". Instead, he uses it to reshape the series by portraying deep themes of vulnerability and loss as the film focuses on the aftermath of King T'Challa's death. Similarly, characters are shaped by their grief as the kingdom of Wakanda fights to embrace its next chapter and protect the nation from intervening world powers. 
We first witness the burden of Shuri (Latitia Wright), T'Challa's sister, as she is tortured by the knowledge that her gifts in science and technology could not save her brother. Queen Ramonda (Angela Bassett), her mother, attempts to balance her responsibility to keep Wakanda sovereign while Nakia (Lupita Nyong'o), T'Challa's partner, struggles to come to terms with his death. The burden each character faces is multilayered as they process the new changes while protecting themselves from the hunger of Western powers for Wakanda's resources. 
A new antagonist, Namor (Tenoch Huerta), also referred to as the feathered serpent god K'uk'ulkan, has big shoes to fill following Killmonger (Michael B Jordan) from the first movie. The two characters share similar ideas like self-determination and aggression, and both are not completely unjustified in their wrath. This movie offers a sincere discussion about resource control and formerly colonized countries, as Namor is the ruler of an ancient deep-sea Mayan civilization known as Talokan. Another new character, Riri Williams (Dominique Throne), is a technology prodigy set to receive her own spin-off series "Ironheart."
The entire movie was shot well with arresting visuals such as a mother cradling her baby in shallow waters, a house burning with flames reaching for the sky and Shuri standing in front of the throne of her fallen brother in a blazing room. The occasional moments of weak computer generated imagery (CGI) do not take away from the overall story, which still presents thrilling scenes and action sequences.
The film's music highlights diverse voices to bring dimension to various cultures and key moments. The two highest profile tracks, Rihanna's Chadwick Boseman tribute "Lift Me Up" and Tems' cover of the Bob Marley staple "No Woman, No Cry," both feature reflective tones that emphasize the importance of T'Challa's — and Boseman's — passing, touching on themes of spirituality, legacy and connection. 
Oscar-winning costume designer Ruth E. Carter, who helped build the world of Wakanda in the first movie through wardrobe, continues to add to the series by portraying the vibrant world of Wakanda and the underwater universe of the Talokan community. Successfully showcasing the similarities and differences between Wakanda and Talokan, Carter introduces intricate details of the Talokan community. The research that went into the costume design process definitely paid off as the color white, worn traditionally for funerals in West Africa, is used to pay homage to Boseman's life. 
The film's various elements are beautifully materialized in "Black Panther: Wakanda Forever," which skillfully lays the groundwork for future MCU projects. On top of that, Boseman is passionately honored as he continues to be irreplaceable, holding the movie together in an elegant and profound way that continues his legacy.
Leave a Comment
About the Contributor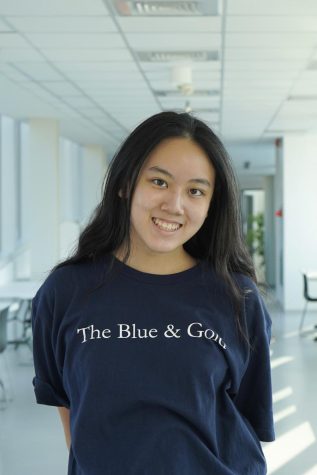 Ariel L. ('23), Print Managing Editor
Ariel is the Blue & Gold's Managing Editor of Print. She has lived in Taiwan for most of her life and spends her free time reading, sewing and watching...