'Smithereens': Joji's album for every occasion
Rating: 4/5
Two years after his last album, "Nectar," Joji released "Smithereens" on Nov. 4. Similar to past albums, the songs on "Smithereens" focus on themes of heartbreak and unrequited love. The album is split into 2 parts: Side A and Side B.
Side A: 
"Glimpse of Us" – 4.5/5
"Smithereens" includes one of Joji's biggest hits, "Glimpse of Us," which has just under 600,000 streams on Spotify and was nominated for Song of the Year for the Australian Recording Industry Association (ARIA) Awards 2022. 
The song is catchy, even to people who might not have been in the character's shoes. The piano and lyrics create the essence of late-night overthinking. However, I feel like this song is a bit too overplayed online. Nonetheless, Joji's lyricism and hypnotic composition create an unforgettable song.
"Feeling Like The End" – 3/5
"Feeling Like The End" is also about someone reeling after a breakup. The character reminisces over all the promises made and experiences they had shared. Rather than a slow piano ballad, "Feeling Like The End" is much more upbeat and incorporates more drums. Although the beat is catchy, the song is fast-paced, especially in comparison to "Glimpse of Us." The song's instrumentals were too repetitive and lacked vocals from Joji. Joji could have done so much more with this beat and produced something that fit better with the album, like incorporating vocals that aligned with the heavier load of instrumentals.
"Die For You" – 5/5
If I had to choose a favorite song from this album, I would have to choose "Die For You."Joji mixes elements of pop and lo-fi in this track to create bedroom pop, a genre of music that uses minimal instruments to create a unique experience for the listener. Despite the melancholic lyrics, the faster beats still fit well with the lyrics. 
"Die For You" is one of the longer songs on the album and is quite similar to the songs that appear on Joji's BALLADS 1 album from 2018. I think this song has a good mix of vocals and instrumentals that enhances the album. 
"Before The Day Is Over" – 5/5
"Before The Day Is Over" (BTDIO) is my second favorite song from the album. Even though Joji still primarily uses the piano as the main instrument, this song is much more similar to those in his 2020 album, "Nectar." Nonetheless, Joji's ability to produce music, from pop to instrumentals, is what makes this song as enjoyable as it is. 
"Dissolve" – 3/5
Right at the beginning of "Dissolve," a guitar cuts in abruptly. Personally, I found this too jarring and did not allow for a smooth transition between "BTDIO" and "Dissolve." As much as I admire Joji for his flow and production ability, I felt like his vocals were too indistinguishable. Even though this is a very common theme throughout his music, the guitar overpowered his voice and made it hard to decipher what he was saying, even with the lyrics displayed in front of me. 
Side B:
"NIGHT RIDER" – 3.5/5
When I first listened to this song, I was expecting something more upbeat. Perhaps it was because of the song title, but I thought "NIGHT RIDER" would be more of a bass-boosted song. 
This was the first song on Side B of the album and I think just listening to it allowed me to understand why Joji split this album in two. The first side definitely feels more like it was traditionally produced, with a variety of instruments and vocals. The second side felt more like music produced in a home studio, perhaps something produced late at night or by someone experimenting with music.
"BLAHBLAHBLAH DEMO" – 3/5
"BLAHBLAHBLAH DEMO" is the only song that did not really stand out to me. It felt like a song that I would listen to but not pay special attention to. I don't dislike it, but I don't see myself being obsessed with it either. I think it's a good song, but nothing about the beat or melody really sticks out to me. 
"YUKON (INTERLUDE)" – 4/5
This was another song Joji released as a single before releasing "Smithereens." Once again, Joji returns to sad piano ballads that later transform into faster beats. Overall, this song was very reminiscent of "Nectar"'s "Pretty Boy". The song is really catchy and the looped piano makes the song feel very organized. 
"1AM FREESTYLE" – 4/5
"1AM FREESTYLE" definitely lives up to its name. The looped beat makes the song feel very homemade, sort of like a spur-of-the-moment song. The lyrics are easy to pick up which makes this such a good song for people to sing, or hum, to themselves. I really enjoyed the isolated vocals toward the middle of the song. This was definitely something different from what appeared in the rest of the album and fit the song well. 
Leave a Comment
About the Contributor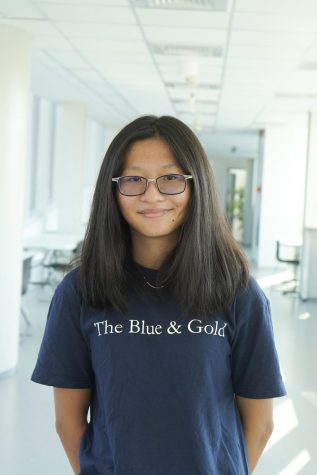 Victoria H. ('24), Online Managing Editor
Victoria is the Managing Editor of Online for The Blue & Gold. She has lived in Taiwan her entire life and has been attending TAS since lower school....