TAS Girls Contact Rugby Mission: why students want a girls rugby team
CONTENT WARNING: This article mentions sensitive topics including sexual assault.
Taipei American School (TAS) students began the TAS Girls Contact Rugby Mission over the first semester to advocate for the option of girls rugby as an Interscholastic Association of Southeast Asian Schools (IASAS) sport.
Mission leader Chloe L. ('24, she/her) was initially inspired to establish the mission through her struggles in playing rugby at school, since only touch rugby is offered for girls. Chloe was limited to playing with the junior varsity (JV) boys rugby team, preventing her from joining the varsity rugby team. 
"The camaraderie that you experience during rugby because of other people supporting you, how tough you get and how goal oriented you get is a great feeling," she said. "This was an awakening moment for me to know that I have to take these measures in order to do something that I wanted to do simply because I was a girl." 
According to Chloe, touch rugby was invented because rugby players wanted to have a warm-up to prevent injuries. "By having touch as an alternative for girls without the contact part tells how the school wants to portray their girls as more feminine, as not being able to be in contact and aggressive like the guys," Chloe said. "But no, it doesn't matter if you are female, male or any gender: Anyone can play rugby."
Going into JV rugby, Chloe expected to face many inequalities, but one particular incident left her feeling extremely disrespected. "After a game that I played in, the team went to congratulate the opposing team, but [there was] this guy who shook my hand, then proceeded to slap my butt. Almost immediately, I pushed him off of me," Chloe said. "At that moment, I felt so much anger — I didn't know that this would happen to me. I felt uncomfortable in that space." 
When Chloe informed her coach about what had happened, her coach consoled her but also encouraged her to continue playing rugby. "He said, 'There's a bunch of little girls in elementary and middle school who are looking up to you because they think that there's going to be an opportunity for them to play rugby because of you,' which felt rewarding," she said. 
The incident also allowed the JV rugby boys to be more open-minded throughout the rest of the season. "Luckily, the boys were very considerate, and they understood what was happening," Chloe said. "[The incident] set a tone for the rest of the season, on how the boys would treat me and also how they would treat other people, especially each other as well and to not engage in that toxic masculine behavior." 
Chloe shared her story with many of her classmates, which prompted them to come together to form the Girls Contact Rugby Mission. "I'm new to the school so it was confusing how we didn't have rugby in school, especially since I'm from Latin America, where women's rugby is a very popular sport," Joaquin H. ('24, he/him), another mission leader, said. "Women's rugby is very popular in [Latin America] and I found out that there's even a World Cup, so it was very disappointing to realize contact rugby wasn't offered to girls here." 
The mission leaders have been reaching out to girls who are potentially interested in playing rugby and boys rugby players in hopes to raise awareness and to form a girls rugby team at TAS. 
The ultimate goal of the mission aims to not only set a culture of girls rugby at TAS, but to also begin communicating with other schools to make girls rugby an IASAS sport. "We want to develop a close community of girls contact rugby players who we hope will carry on the team in the future," Maya K. ('24, she/her), the third mission leader, said. "Regardless of whether you play sports or not, we have been encouraging people to come out and play and have been reiterating that everyone is new to the sport so we're all in the same boat in terms of learning to play." 
Leave a Comment
About the Contributor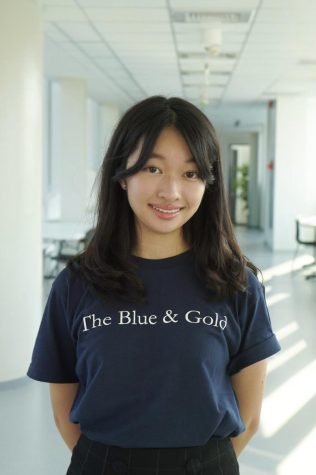 Amber W. ('23), Co-Editor-in-Chief
Amber is the co-editor-in-chief of The Blue & Gold. She has lived in Taiwan her entire life and has been at TAS since first grade. When she is not...