Emily W. creates Bluebird Bakery to sell baked goods
To many, sweet treats act as pick-me-ups, the occasional indulgence in an otherwise boring diet. Yet these desserts also pose a dilemma — there's so much diversity in the confectionary world that one's options are endless. For students, most wish for simple sweets that are both conveniently accessible and taste even better than other options on the market. Thankfully, a business that's just that has emerged this past year. 
Bluebird Bakery is a student-run and owned business, started by Emily W. ('25, she/her). Through her business, Emily sells a variety of baked goods such as cupcakes, cookies and muffins. So far, she has been running her business through her Instagram account @_bluebirdbakery, where customers can send messages to the account to place an order. All her items are also displayed through posts for customers to choose from. 
Emily started her business in the summer of 2021. Many students stayed in Taiwan over that year due to COVID-19's lasting effects. During her time at home, Emily realized a passion she always had was baking, and thus decided to spend more time perfecting her hobby. Starting a business was not initially her plan, but after some encouragement from her parents, she decided to try launching the business. 
Growing up in a family who loved sweets made starting the business an even more natural step for Emily, as they were the ones who inspired her love for baking. "It all started during my childhood," Emily said. "My mom taught me how to bake at a young age, and it started out with simple vanilla cupcakes but now we're doing more advanced stuff." 
Though baking itself is a crucial part of running Bluebird Bakery, many logistical steps were taken alongside that in order for things to run smoothly. Before launching her business, Emily had to plan out delivery systems, determine prices and marketing methods. There were many challenges she had to overcome during the first couple of months. 
Firstly, there was lots of difficulty in deciding how to price her items. "I tried not to make things so expensive, but the high quality ingredients cost a lot, and I also need some sort of profit to come out of it as well," Emily said. 
Delivery also proved to be unexpectedly inefficient, as Emily had to try out many methods of delivery before settling on having customers pick up orders at her house. "I did hand-deliver all the items in the first round of orders, but then I realized how hard it would be to maintain this, because everyone lives in such different areas," she said. 
The business has been well-received from a large number of customers, many of which are Taipei American School (TAS) students as well. "[Emily's baked goods] were really good, and I would definitely buy from her again when she restocks," Chelsea D. ('25, she/her) said. Many customers rave about her bestselling cupcakes. "Her red velvet cupcakes are the best I've ever had in my life. My whole family loves them," Sage R. ('25, she/her) said. 
Emily hopes to be able to expand her business in the future. "I would love to have an actual establishment one day and have a wider selection [of items] on my menu," she said. "It's pretty crazy this all started out as a hobby but now has evolved into something I really enjoy doing." 
Leave a Comment
About the Contributor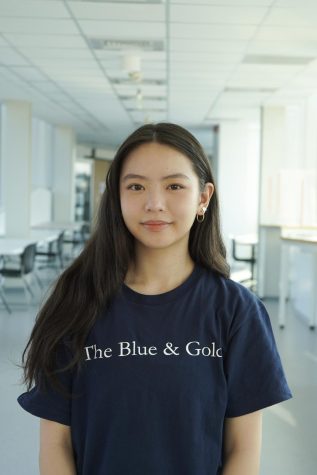 Erin W. ('25), Staff Writer
Erin is a staff writer in The Blue and Gold. She is a sophomore at TAS, and is excited to start Journalism to share writing pieces with the community that...