Class of 2023 to have an indoor on-campus graduation
For the past few years, the thought of graduating indoors on the TAS campus has seemed exhilarating yet foreign to seniors due to the unforeseen circumstances that past classes have dealt with. The uncertainty of being able to celebrate entering the next stage of students' lives has loomed over the school for three years. However, this year's graduation ceremony will be held at TAS's Joie Gymnasium (USG) on June 3, the first indoor on-campus graduation since 2019.
Due to COVID-19 restrictions that prevented large gatherings, seniors in the last three years celebrated differently, including a ceremony on TAS's upper school field in 2020, a drive-in diploma pick-up in 2021 and a historic off-campus graduation at Taipei Municipal Stadium in 2022.
"At first I was disappointed that graduation wouldn't be at the gym since we wouldn't be able to get photos at school," Sharon L. ('22, she/her), who graduated at Taipei Municipal Stadium, said. "But I realized that graduating at the stadium was really nice as well since there was a lot of space and photo booths set up for us."
Despite similarities to pre-pandemic ones, there will still be changes to this year's graduation. Historically, the event was held in the Derryl Franz Middle School Gymnasium (MSG), but will take place in the USG this year so 200 to 300 more guests can attend since the MSG can only fit 1,650 people.
"One of the issues we've run into in the past is that people haven't been able to invite all the loved ones who they wanted to have come, so we feel that being able to bring a few hundred more people in is a really good idea as well," Upper School Principal Mr. Andrew Lowman (he/him) said. "Also, there's better lighting and better accessibility, particularly for those of our loved ones or students who need assistance moving around. It's going to look a little different than it did four years ago, but we're really excited to use the upper school space for [graduation]."
Another change is that the ceremony will be held at 10 a.m. instead of in the afternoon to allow students to have time to celebrate on their own. "We've realized that people sat around all day waiting for graduation [in the past] and that we can do graduation in the morning then people can head off and have celebration lunches with their families as well," Mr. Lowman said.
Seniors are looking forward to wrapping up their upper school journey with a traditional indoor graduation at TAS. "It's nice to have an indoor graduation this year since it'll be humid outdoors and there's a possibility that it might rain outside," Enya T. ('23, she/her) said.
"It's great that seniors get to end high school on a high note with everything returning to normalcy," Richie H. ('23, she/her) said. "I'm really excited to celebrate with my friends and family — My friends and I might have a celebratory lunch after graduation, so I'm looking forward to that."
Leave a Comment
About the Contributor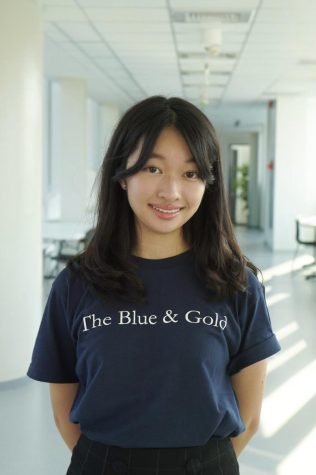 Amber W. ('23), Co-Editor-in-Chief
Amber is the co-editor-in-chief of The Blue & Gold. She has lived in Taiwan her entire life and has been at TAS since first grade. When she is not...